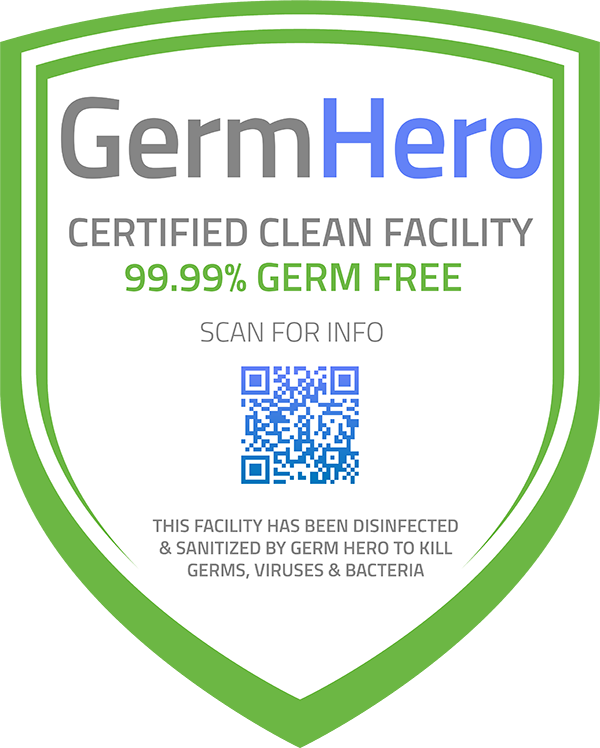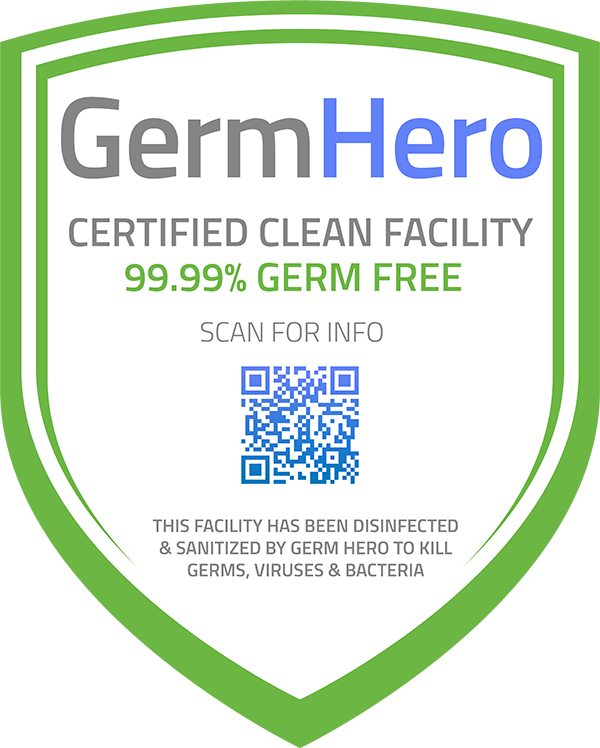 What Is Germ Hero Verified?
Germ Hero Verified is a status that creates immediate awareness, and builds trust and confidence in your guests and customers that visit your business.
When a business has regularly scheduled disinfection and sanitizing services by the experts at Germ Hero, we provide that business with Germ Hero Verified Shield Plaques. These Germ Hero Verified Shields announce loud and clear to your customers and visitors that your place of business or facility has been properly and efficiently disinfected by the leading industry experts at Germ Hero.
When a business maintains a Germ Hero "Verified Status" by having regular disinfection services at least once a month, that business will gain placement Germ Hero's Verified Business Directory. This shows that Germ Hero, the #1 Disinfection and Sanitizing Service trusted by thousands of people and companies is backing that business as clean and safe facility.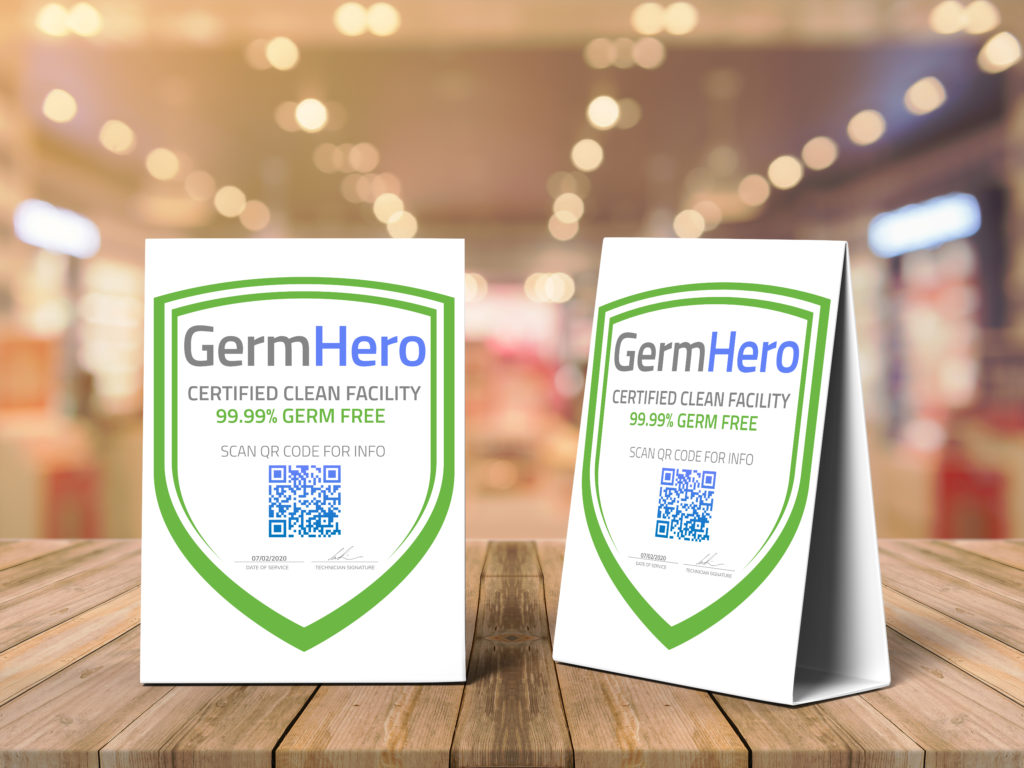 Building Awareness, and Driving Traffic Back Through Your Doors
Along with the Germ Hero Verified Shields provided for the business, we also promote them on Germ Hero's website, and throughout our social media reach as a Germ Hero Verified Customer. This brings massive exposure, awareness, and builds trust and confidence in the community and its potential customer base.
Our Germ Hero Verified Shields not only immediately build trust and confidence in a business, but when you scan the QR code shown on each shield, it brings you to our website which shows the verification of that business, the disinfection and sanitizing service that was done and when. Furthermore, it educates the customer to understand that the business is taking every precaution and measure to create a safe and germ-free environment for their visitors and customers.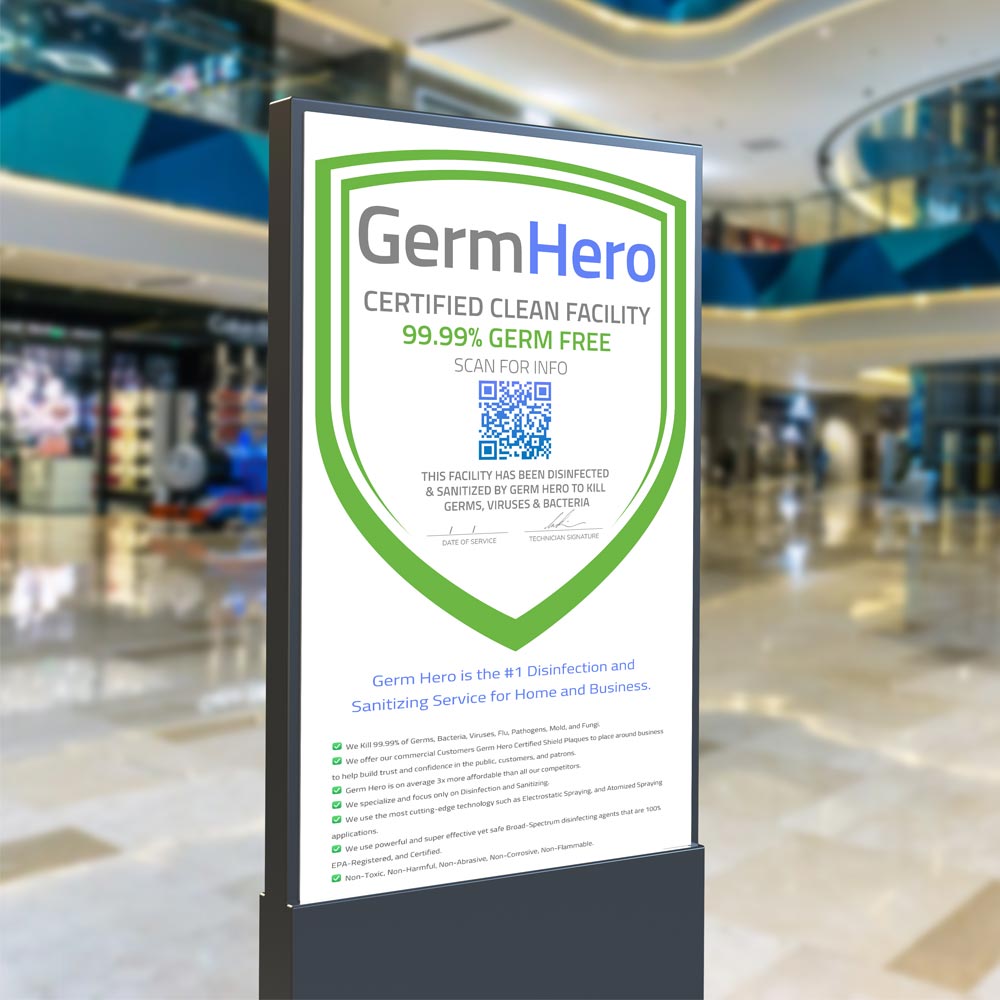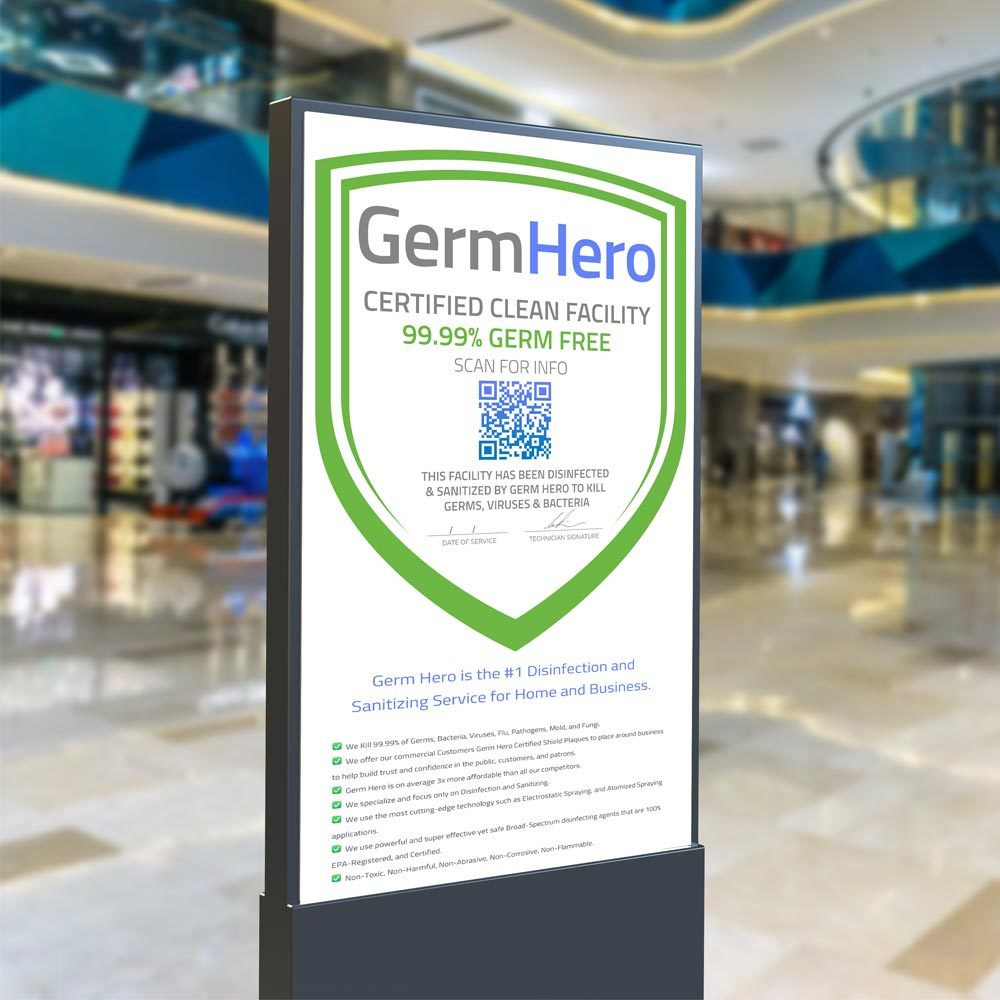 What are the benefits?
Custom Disinfection and Sanitizing Solutions from Germ Hero that Safely Kill 99.99% of Harmful Germs, Viruses, and Bacteria in your business
Discounted Pricing for Recurring Disinfection Services
Germ Hero Experts Work 1 on 1 with Your Business to Create a Custom Disinfection Game Plan
Build Trust and Confidence with Visitors and Customers in Your Business
Gain Exposure, and Create Massive Awareness to Bring Customer Traffic Back Through Your Doors
Get Placement in Germ Hero's Verified Business Directory, and Promoted Throughout Germ Hero's Social Media Reach
And Of Course, Everything you Get with Germ Hero's Standard Disinfection and Sanitizing Services
Testimonials
Germ Hero is Trusted by thousands
of people and businesses.
"So glad I decided to go with Germ Hero, I got quotes from other companies and they were almost TWICE as expensive. Being a single working mom I needed something that worked around my busy schedule. Germ Hero came out the SAME day and did a great job!"
"My business was closed due Covid-19 for 3 months. When we got the okay to open, I knew I had to find a reliable partner to help keep my business safe and sanitary. Germ Hero gives my customers the trust and confidence they need, seeing Germ Hero Sanitary Certificate they gave me, right on my front window."
"I've done everything to keep my family and I safe during this pandemic. But, nothing gives me the feeling of a recently disinfected home by Germ Hero. They were super easy to book, really friendly and I never had looked anywhere else. You guys are awesome, thank you!"
"My Real Estate office has been busier than ever. My clients get to feel that extra boost of trust and confidence that I take every step to ensure their safety when coming into my office. This goes a long way, thanks to the pros at Germ Hero, they are easy and flexible to work with!``