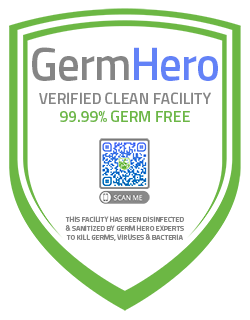 Germ Hero is a 5-Star Expert Disinfection Company

Whether you're looking for ongoing prevention to disinfect your business and sanitize your home, or just need a one-time cleaning, we are the experts in fast, safe and affordable electrostatic spraying and disinfection.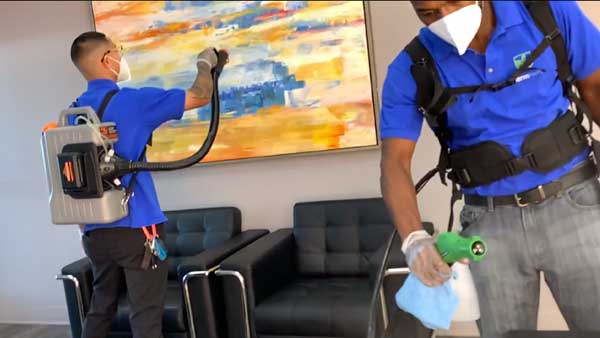 Residential Disinfection
Our residential disinfection service delivers you and your loved ones peace of mind and a germ-free, bacteria-free and virus-free home. When you sanitize your home using Germ Hero's technology you can be assured that you are getting the safest most effective disinfection service for your home that you can't get anywhere else.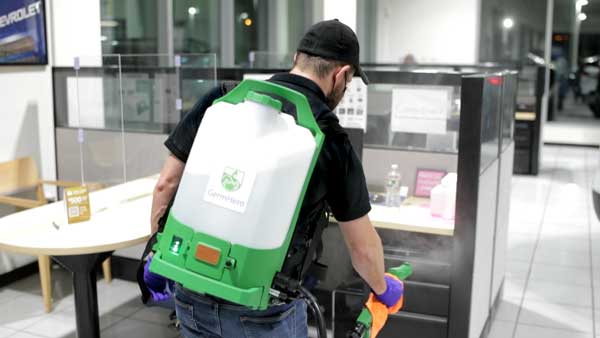 Commercial Disinfection
Our Commercial disinfection service delivers a sanitary facility and builds trust and confidence with your customers. Germ Hero's expert service allows us to disinfect your business to eliminate germs, viruses and bacteria in every square inch. Businesses getting regular service will be accepted into Germ Hero Verified Business Program.

Germ Hero Disinfection Services
Germ Hero Verified
Electrostatic Spraying Service
COVID-19 Coronavirus Disinfection
Ongoing Antimicrobial Protection
Rapid ATP Microbial Testing
Germ Hero Disinfection Technology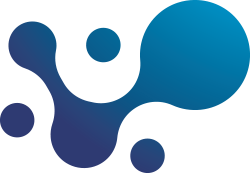 Germ Hero delivers fast, safe, and affordable expert disinfection services that are proven to kill 99.99% of harmful Germs, Viruses (including COVID-19), Flu, Bacteria, Pathogens, Fungi, and Mold in every square inch of a home, business or facility.
We use the latest cutting-edge technology such as electrostatic spraying, ULV atomized fogging,  and broad-spectrum disinfecting solutions that are EPA approved, CDC recommended and 100% safe for people, pets, and the environment. Our services cause no downtime, and do not require the need to vacate or  ventilate the facility.
Ready to disinfect your home or business? Get a Free Estimate Now
Germ Hero Verified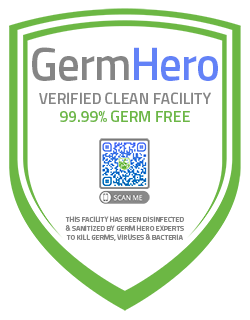 Along with expert disinfection services, Germ Hero boosts businesses and organizations by creating sanitary awareness, trust and loyalty. As part of our service, we deliver custom digital marketing material for our business clients to share with their customers, employees and the public. We also support each one of our business clients by promoting them through our social media reach and online marketing channels. Our mission is to deliver a sanitary facility, and truly help businesses on an economic level using the Germ Hero Verified process below:
Provide a fast, safe and affordable expert disinfection and sanitizing service using the latest technology.
Create sanitary awareness with Germ Hero Verified signs to place around the business.
Deliver custom marketing material (video and content) for each business to build trust and loyalty with customers, visitors, and employees.
Promote each Germ Hero Verified business across Germ Hero's social media, online reach and marketing channels as a true clean facility.
Electrostatic Spraying and Disinfection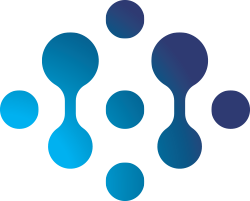 Our electrostatic disinfection solutions begin to work immediately in just seconds on contact killing germs, viruses and bacteria when sprayed. The amount of time it takes to completely disinfect surfaces and entire facilities are reduced by up to 50% using this method. Electrostatic spraying is extremely effective when compared to more traditional cleaning techniques. It is a far better way to reach surfaces that are challenging to clean, gives a more even coating of disinfecting solutions to objects, and promotes fast cost-effective cleaning.
Electrostatic spray gives objects an even, 360-degree coating made possible by the negative charge of the sprayed solution as it exits the tool's nozzle and the positive charge of the surfaces it reaches. It effectively atomizes cleaning solutions in this way, using electrostatics to attach to and wrap around harmful microorganisms and remove them from surfaces, including those that are difficult to reach.
COVID-19 Coronavirus Disinfection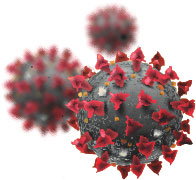 Germ Hero is an industry leader in coronavirus COVID-19 disinfection. All our technicians certified experts who provide best practices for coronavirus COVID-19 cleaning.
Germ Hero is uniquely prepared during this unprecedented time to clean an disinfect your home or business according to the protocols set forth by the CDC. We have the experience in dealing with germs, viruses, and bacteria, and we will go beyond the scope of work that regular janitorial staff perform on a daily basis.
Germ Hero experts adhere to strict OSHA regulations and Centers for Disease Control and Prevention (CDC) guidance when safely cleaning and disinfecting businesses, residential properties, vehicles and other properties as needed from coronavirus COVID-19. Our professionals are trained to perform a proactive cleanup that involves facility or structure cleaning and disinfection.
Ongoing Antimicrobial Surface Protection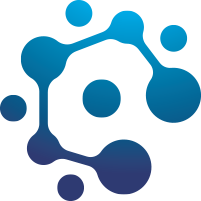 Germ Hero's long lasting disinfecting solutions combine antimicrobial encapsulation with germicidal disinfecting agents. This method delivers more long-lasting and durable effects with malodour elimination through controlled-release of organic biocides, metabolic inhibitors and active disinfectants .
Continuously kills viruses, including SARS-CoV-2
Effective on virtually any surface
Applies and dries in minutes
Invisible, odorless, non-tacky, non-disruptive
Resume normal cleaning schedules
Won't wipe off with regular cleaning
Safe, non-toxic, non-irritant, no VOCs
Rapid ATP Microbial Testing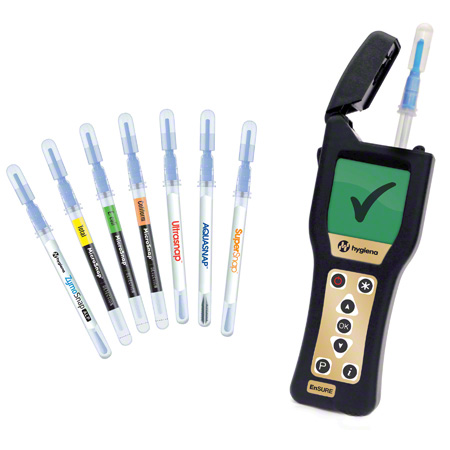 ATP testing is a standardized testing protocol to determine the level of contamination in a home, business, or facility. Germ Hero's Rapid ATP testing allows us to determine the microbial bacteria count on any given surface or liquid using RLU readings (Relative Light Units). This reading tells us the level of living microorganisms that are present on the surface which was tested. These results help us determine the likelihood of cross-surface contamination and the probability of exposure to infectious diseases like Covid-19 being contracted in your facilities.
Testimonials
Germ Hero is Trusted by thousands of people and businesses.
"So glad I decided to go with Germ Hero, I got quotes from other companies and they were almost TWICE as expensive. Being a single working mom I needed something that worked around my busy schedule. Germ Hero came out the SAME day and did a great job!"
"My business was closed due Covid-19 for 3 months. When we got the okay to open, I knew I had to find a reliable partner to help keep my business safe and sanitary. Germ Hero gives my customers the trust and confidence they need, seeing Germ Hero Sanitary Certificate they gave me, right on my front window."
"I've done everything to keep my family and I safe during this pandemic. But, nothing gives me the feeling of a recently disinfected home by Germ Hero. They were super easy to book, really friendly and I never had looked anywhere else. You guys are awesome, thank you!"
"My Real Estate office has been busier than ever. My clients get to feel that extra boost of trust and confidence that I take every step to ensure their safety when coming into my office. This goes a long way, thanks to the pros at Germ Hero, they are easy and flexible to work with!``
Subscribe
Join our subscription and get instant
updates

about

offers

and

discounts.