Disinfection Service in Las Vegas Nevada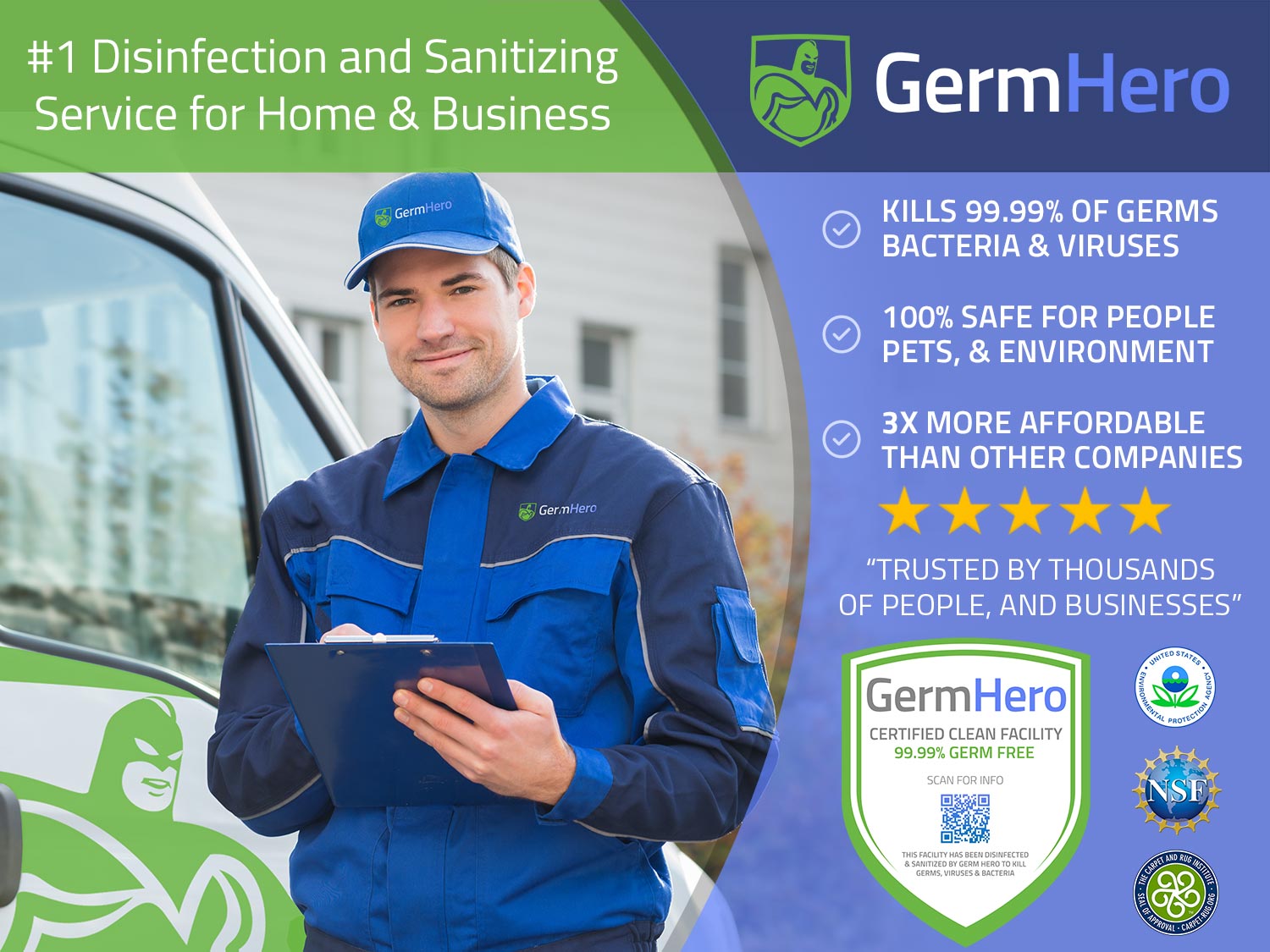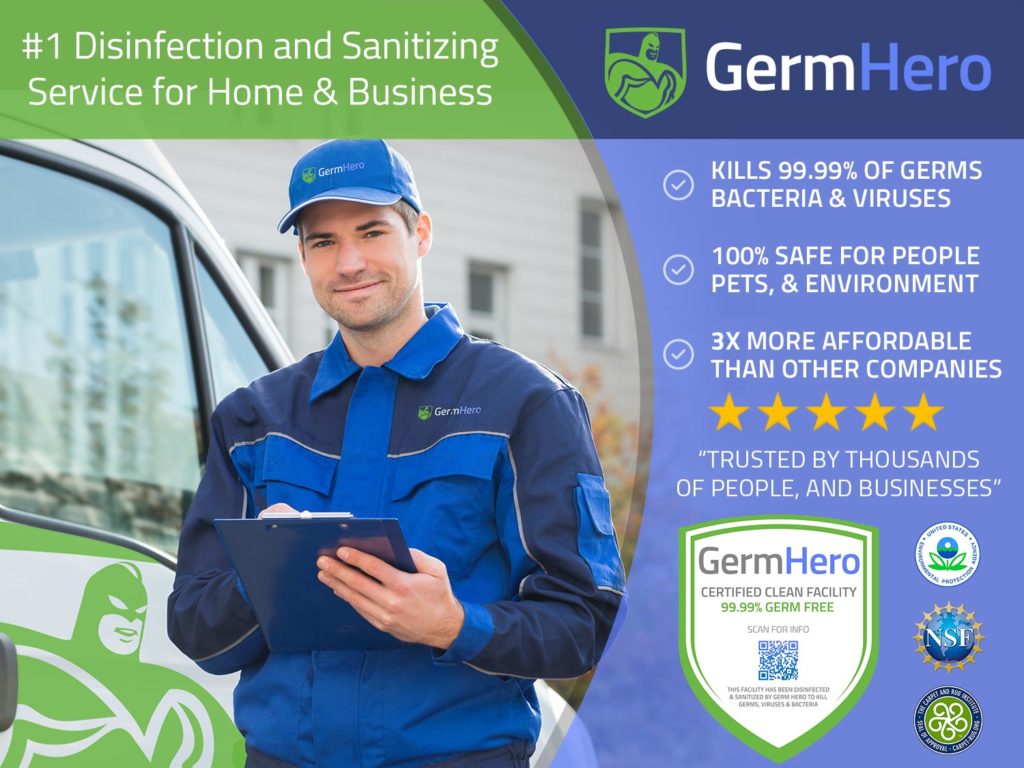 Service Areas:
Germ Hero provides disinfection services in Summerlin, Henderson, City of Las Vegas, and North Las Vegas.
Germ Hero Las Vegas Contact Info:
Phone: 702-937-5394
Address: 4625 Wynn Rd #100
Las Vegas Nevada, 89103
Electrostatic Spraying in Las Vegas
Kills 99.99% of Harmful Viruses and Bacteria in your Home or Business.
EPA Registered and CDC recommended products
100% Safe for people, pets, and the environment
No ventilation, wiping, or rinsing required. Even on food-contact surfaces
Non-Toxic, Non-Abrasive, Non-Corrosive, Non-Flammable
Latest cutting-edge technology providing Electrostatic and Atomized Spraying applications
Germ Hero Verified shields provided to help build and maintain trust and confidence within your business.
Convenient and secure online estimates, booking, and payments
3x more affordable than other disinfection companies
Incredible personalized support, fast turn-around, and customized solutions
Germ Hero Disinfection and Sanitizing Services
As the top disinfecting company in Las Vegas, Germ Hero delivers state-of-the-art technology and EPA-certified, internally tested disinfecting solutions. Utilizing electrostatic spraying techniques, our premier Las Vegas disinfecting services effectively remove viruses and eliminate 99.99% of all germs, bacteria, and pathogens. Because of our widespread success, thousands of companies trust Germ Hero with their home and business disinfection.
Germ Hero is a home and business sanitizing company providing services in Henderson, City of Las Vegas, Summerlin, and North Las Vegas in Nevada.
When you hire Germ Hero for our sanitizing services, you can feel confident that you are receiving the best possible disinfection in Las Vegas. Our highly experienced, professional staff go the distance to help with your prevention, disinfection, and sanitary goals. All our products are EPA-certified, non-toxic, and non-corrosive, making them a safe solution for everyone from the elderly to children and animals. No matter the size of your business, our professionals are more than happy to get you set up with the perfect disinfection plan for your space, no matter how large or small.

Get Germ Hero Verified
Show the world you mean business now with Germ Hero sanitizing services. Our staff is ready around the clock to provide free consultations and flexible scheduling that fits into your undoubtedly busy schedule. From providing an estimate to the physical disinfection of your home or business, our staff will guide you through the process seamlessly from beginning to end.
Germ Hero is proud to provide a 99.99% kill rate of germs, bacteria, and other harmful impurities. Extend your sanitized pride with an official Germ Hero Verification. When you opt to employ regularly scheduled commercial disinfection services from Germ Hero, your business gains Germ Hero Verification. This verification means your business receives recognition on Germ Hero's website and social media, letting the public know your business is 100% safe from germs. Get started today with a free consultation!
COVID-19 and Your Business
In addition to our home lives, COVID-19 has had a disrupting impact on the majority of businesses and the economy. As a business owner, you naturally want to keep things rolling. To remain in business, it is your responsibility to ensure the safety of all staff and patrons returning to work. Providing a wholly sanitized space you can feel confident about is the first step in 2020 business success.
As of now, Vegas has seen approximately 82,546 COVID cases, with 1,624 resulting in death. While these numbers have seen a bit of a decrease since mid-September, you must enact regular disinfection services and healthy practices for maintaining a safe environment in the long-run. Germ Hero makes it easy to protect what is most important, using 100% safe methods and products, along with affordable, flexible scheduling.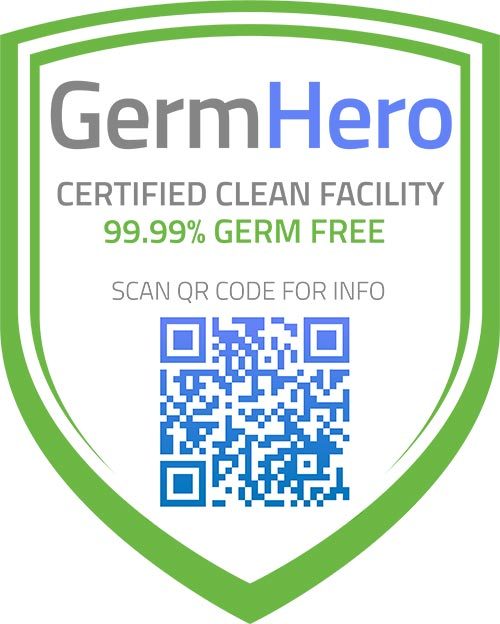 Experienced & Expert Staff
Professional and Experienced staff ready to help you with your prevention, disinfection, and sanitary goals.
100% Safe Products and Methods
All of our products are EPA Certified, Non Toxic, Non Corrosive, Safe for Humans, Pets, and the Environment.
Easy Booking, Fast Service
Get an estimate, set your schedule, and book your appointment. Then let us do the rest.
Best Equipment & Products
We use the latest technology, cutting edge equipment and products for all of our customers.
99.9% Kill Rate of Germs
Germ Hero is the industry leader in killing harmful Germs, Flu, Viruses, Pathogens, and Bacteria.
Germ Hero Certified Shield
Build trust and confidence with your customers who come to your place of business.
Testimonials
Germ Hero is Trusted by thousands
of people and businesses.
"So glad I decided to go with Germ Hero, I got quotes from other companies and they were almost TWICE as expensive. Being a single working mom I needed something that worked around my busy schedule. Germ Hero came out the SAME day and did a great job!"
"My business was closed due Covid-19 for 3 months. When we got the okay to open, I knew I had to find a reliable partner to help keep my business safe and sanitary. Germ Hero gives my customers the trust and confidence they need, seeing Germ Hero Sanitary Certificate they gave me, right on my front window."
"I've done everything to keep my family and I safe during this pandemic. But, nothing gives me the feeling of a recently disinfected home by Germ Hero. They were super easy to book, really friendly and I never had looked anywhere else. You guys are awesome, thank you!"
"My Real Estate office has been busier than ever. My clients get to feel that extra boost of trust and confidence that I take every step to ensure their safety when coming into my office. This goes a long way, thanks to the pros at Germ Hero, they are easy and flexible to work with!``