Disinfection Service in Las Vegas Nevada


Service Areas:
Germ Hero provides disinfection services in Summerlin, Henderson, City of Las Vegas, and North Las Vegas.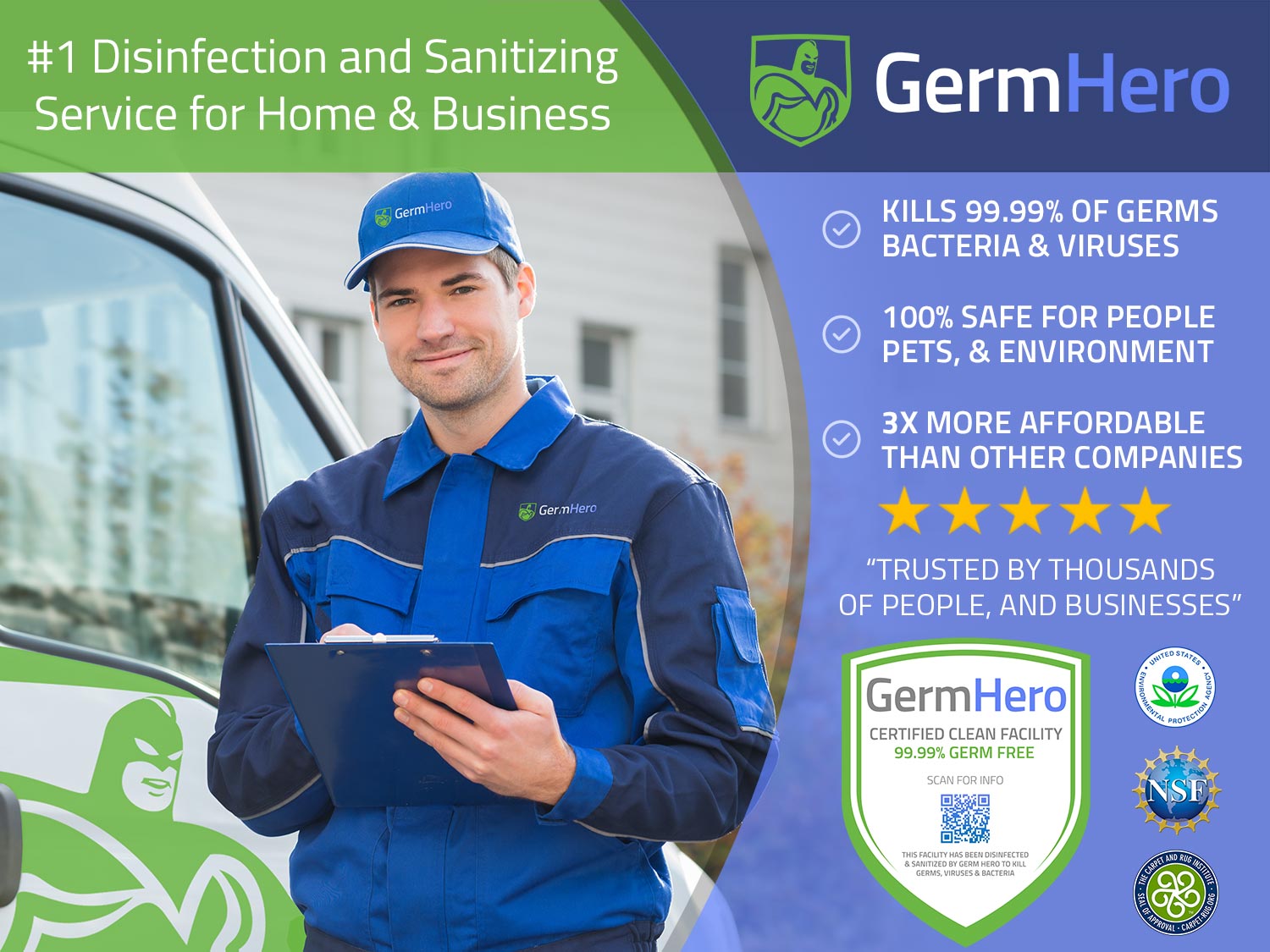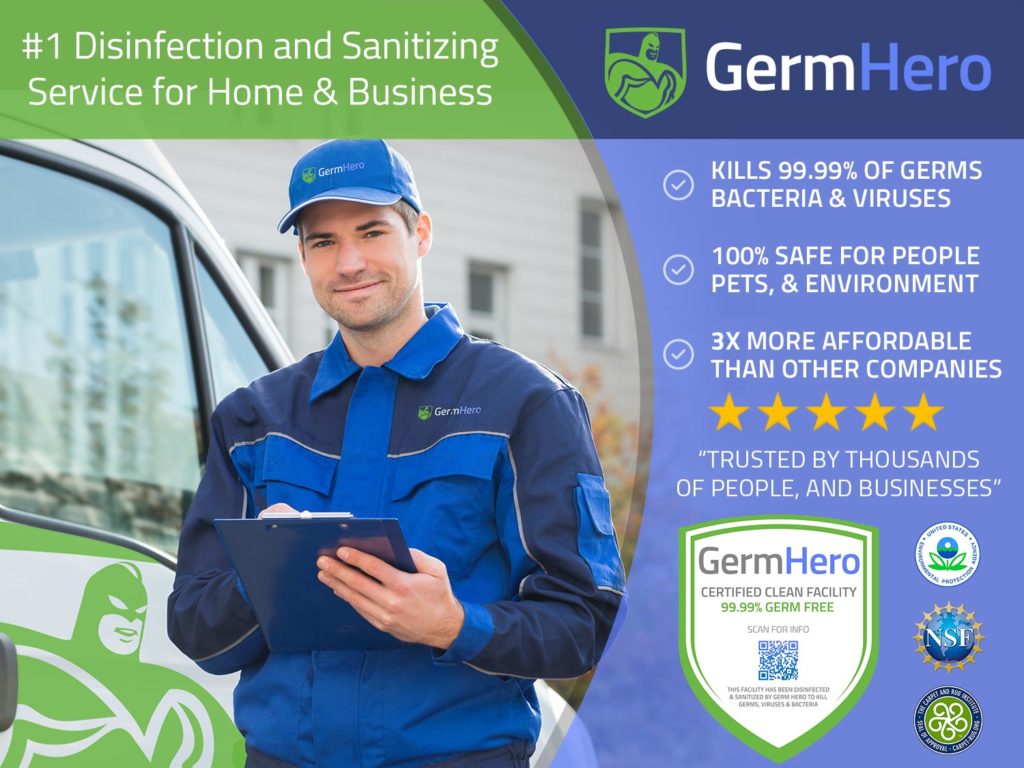 Germ Hero Las Vegas Contact Info:
Electrostatic Spraying in Las Vegas
Kills 99.99% of Harmful Viruses and Bacteria in your Home or Business.
EPA Registered and CDC recommended products
100% Safe for people, pets, and the environment
No ventilation, wiping, or rinsing required. Even on food-contact surfaces
Non-Toxic, Non-Abrasive, Non-Corrosive, Non-Flammable
Latest cutting-edge technology providing Electrostatic and Atomized Spraying applications
Germ Hero Verified shields provided to help build and maintain trust and confidence within your business.
Convenient and secure online estimates, booking, and payments
3x more affordable than other disinfection companies
Incredible personalized support, fast turn-around, and customized solutions
Germ Hero Disinfection and Sanitizing Services
As the top disinfecting company in Las Vegas, Germ Hero delivers state-of-the-art technology and EPA-certified, internally tested disinfecting solutions. Utilizing electrostatic spraying techniques, our premier Las Vegas disinfecting services effectively remove viruses and eliminate 99.99% of all germs, bacteria, and pathogens. Because of our widespread success, thousands of companies trust Germ Hero with their home and business disinfection.
Germ Hero is a home and business sanitizing company providing services in Henderson, City of Las Vegas, Summerlin, and North Las Vegas in Nevada.
When you hire Germ Hero for our sanitizing services, you can feel confident that you are receiving the best possible disinfection in Las Vegas. Our highly experienced, professional staff go the distance to help with your prevention, disinfection, and sanitary goals. All our products are EPA-certified, non-toxic, and non-corrosive, making them a safe solution for everyone from the elderly to children and animals. No matter the size of your business, our professionals are more than happy to get you set up with the perfect disinfection plan for your space, no matter how large or small.

Get Germ Hero Verified
Show the world you mean business now with Germ Hero sanitizing services. Our staff is ready around the clock to provide free consultations and flexible scheduling that fits into your undoubtedly busy schedule. From providing an estimate to the physical disinfection of your home or business, our staff will guide you through the process seamlessly from beginning to end.
Germ Hero is proud to provide a 99.99% kill rate of germs, bacteria, and other harmful impurities. Extend your sanitized pride with an official Germ Hero Verification. When you opt to employ regularly scheduled commercial disinfection services from Germ Hero, your business gains Germ Hero Verification. This verification means your business receives recognition on Germ Hero's website and social media, letting the public know your business is 100% safe from germs. Get started today with a free consultation!
COVID-19 and Your Business
In addition to our home lives, COVID-19 has had a disrupting impact on the majority of businesses and the economy. As a business owner, you naturally want to keep things rolling. To remain in business, it is your responsibility to ensure the safety of all staff and patrons returning to work. Providing a wholly sanitized space you can feel confident about is the first step in 2020 business success.
As of now, Vegas has seen approximately 82,546 COVID cases, with 1,624 resulting in death. While these numbers have seen a bit of a decrease since mid-September, you must enact regular disinfection services and healthy practices for maintaining a safe environment in the long-run. Germ Hero makes it easy to protect what is most important, using 100% safe methods and products, along with affordable, flexible scheduling.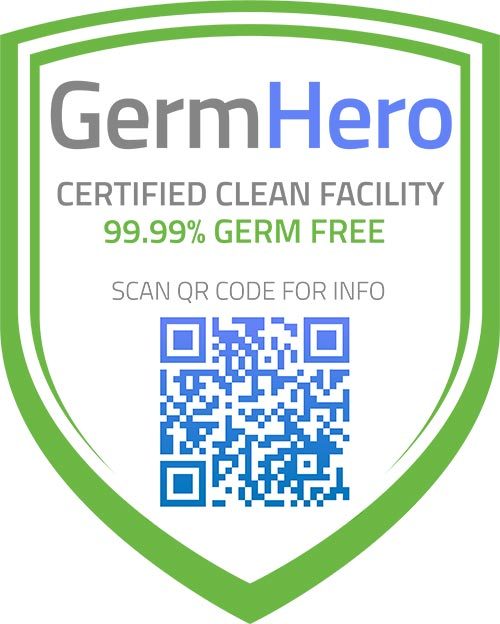 Experienced & Expert Staff
Professional and Experienced staff ready to help you with your prevention, disinfection, and sanitary goals.
100% Safe Products and Methods
All of our products are EPA Certified, Non Toxic, Non Corrosive, Safe for Humans, Pets, and the Environment.
Easy Booking, Fast Service
Get an estimate, set your schedule, and book your appointment. Then let us do the rest.
Best Equipment & Products
We use the latest technology, cutting edge equipment and products for all of our customers.
99.9% Kill Rate of Germs
Germ Hero is the industry leader in killing harmful Germs, Flu, Viruses, Pathogens, and Bacteria.
Germ Hero Certified Shield
Build trust and confidence with your customers who come to your place of business.
Germ Hero Las Vegas Nevada Customer Reviews
See why people in Las Vegas choose Germ Hero
Dawn Beasley
23:33 31 Dec 21
The 1st time we used this company they were amazing. This time I scheduled my appointment, received a confirmation and then got ghosted. No answer on the phone, no reply to texts emails or social media messages. I don't think they're in business anymore so I'd be careful booking online with them. Plus now I get an email that my service was completed? No, you never showed up so nothing was completed. They obviously use an automated system for these. CONSUMER BEWARE!
Knowing we were moving, we wanted to insure a clean and safe environment with movers, cable, wifi, security being installed in our new home and a lot of unknown people. We researched several companies and found Germ Hero was the only one who explained the process, how it works. More importantly their communication is Platinum Service, where other companies didn't respond. We'll definitely use Germ Hero again.
Doris Pranicevic
18:30 10 May 21
We have a small financial company but not that many customers coming through. Its all pretty much virtual. However, we do have almost 40 employees on a site and we did Germ Hero mostly for their sake, as some started to be a bit worried about the current Covid situation.. Guys at Germ Hero were very responsive and professional and fast. Few of our employees were so thankful and actually came to tell us they feel much better coming to work now. So, even if you don't have many clients, it's a definite recommend on my end! Great guys and great work!
Robin Robinson
17:31 01 Feb 21
This company is the quintessential service organization! We called them with very short notice. We were out of town and our home became infected by the person watching the property. 2 hours before our return home, they came out and thoroughly disinfected the house. The home was left in immaculate condition and locked up at the time of completion. They even put up with our pesky dogs whom the sitter did not, apparently, adequately lock outside for the tech. He gently placed them outside, twice, during his efforts.We compared pricing with 2 other companies, and Germ Hero was the best, and the most friendly and professional to speak and deal with.If you're in need of a disinfectant service, Germ Hero is highly recommended by this home owner. They won't let you down!Bless them for their service, and bless anyone needing such service!Sincerely,Robin A. RobinsonHomeowner and Citizen,Las Vegas, Nevada
felicia Hayes
21:18 15 Jan 21
I was skeptical because this was my first time using any services of this nature...I became ill and needed peace of mind to reclaim the cleaniness of my home and they definitely sanitized my home very well...would recommend their services!
Kathleen Barrera
07:24 14 Jan 21
The owner and Kevin had great customer service and honored the first quote they gave me and then threw in a free auto disinfectant and they did my shed complimentary on site. They were prompt, polite, quick and efficient. No residue nor odor was left when they finished. Couldn't even tell they did anything which in this case is good. They are compassionate about really helping people and did a very thorough spray and then they did a second coat through the entire house after they wiped down the first application. I was impressed by their professionalism as I know they were just starting their entrepreneurial adventure with a break through invention and product that no one else could deliver. Looking forward to doing business with them in the near future and staying sanitized!!
Milenko Mrakovic
21:51 13 Jan 21
Great company , we are in transportation business and we use there services for office and equipment disinfection. Very professional and responsive.Thank you guys for everything what you doing in this hard times for our community, God bless you 🙏🏻
Lola Pokorny
14:47 08 Nov 20
Great company to work with! Both of Lola's locations are currently contracted and we are very happy with the product and customer service! Providing a product that gives peace of mind for health and happiness! Good job guys!!
Rina Teich
15:05 05 Nov 20
So glad i found Germ Hero. They are extremely professional. They don't overcharge like some of these other companies out now. Very professional. They sanitized my entire house. Thank you!!!
aleksandar medic
15:20 14 Oct 20
Absolutely amazing customer service! Very professional and responsive to all my high demands. I would definitely recommend to everyone who doesn't want to worry about new Covid rules and regulations. Thanks again guys!!!
Austen Gardner
16:25 23 Sep 20
What a great company to be able to call to kill those germs! They were so very friendly, fast, efficient and professional! Every business should get this done monthly or more!
Courtney Martin
16:17 14 Sep 20
GermHero is top of the line when it comes to disinfection and sanitation for home and business. Being in the Healthcare Industry, I understand and recognize the importance of needing such a specialized service. GermHero is keeping our homes, medical practices, and everyday visits just that much safer!
During this unprecedented time, we need to find a reliable company to depend on. I had the pleasure of using Germ Hero's services and I can say that they are a top-notch company! I've done my research and talked to several companies before deciding on using them because of a better quote. I'm so glad I did! They have awesome customer service, very professional, and very pleasant to deal with. From the owners (Ilija & Eric) to the technician (Kevin), I have nothing but good things to say about them. Look no further if you need any disinfection and sanitizing services. You will be way beyond satisfied.
Douglas Banaszak [West Prep MS]
18:25 05 Sep 20
Absolutely, great experience. From top to bottom, they are thorough, professional, and very passionate about cleanliness and stand behind their work 100%! I would suggest them to anyone.
Andreya Komnenovich
21:16 20 Aug 20
Professional and reliable service, courteous staff, high quality work.
Phil Cadolino
06:21 20 Aug 20
I can't say enough about the owner of Germ Hero, Eric! Work ethic, character, customer service, and professionalism are second to none! Highly recommended!!
Mario Samson
05:06 20 Aug 20
Great job! Glad to have you the peace of mind of having a clean office. Thank you for answering all my questions and providing us the service in a timely matter.Thank you, you guys a truly making a difference!
Best in the business keeping that Covid away. Could not believe how affordable it was also. Always better preventative money than dealing with a lawsuit later.
Vukasin Slavkovic
02:42 20 Aug 20
If you really need to sanitaze your work place you should try this company.Very nice costumer service, great price and on the end you get totally clean space germ and bacteria free.Thanks for your business
Dima Kaoud
02:00 20 Aug 20
Reasonable price, very professional, great customer service, they showed up on time to appointment, sprayed every inch of my house, with the corona virus still going on, disinfecting my house is extremely important, gavd me a peace of mind. Eric Zhivalyuk, was extremely professional, explained the process in details, I will definitely recommend germ hero to family and friends. Thank you Eric for great service.
gavin gonzalez
01:59 20 Aug 20
Am amazing company!!! Having 4 kids at home they were my first pick for Disinfecting my house will recommend them to anyone and everyoneThank you
My experience was of the up most tremendous. I always get quick and professional care from them. If you want to keep your family, friends, and employees safe then call Germ Hero. They are MY heros. Let them be yours.
Lev Kozorovsky
01:35 20 Aug 20
Highly recommend Germ Hero!
Tina B (Tina)
19:56 19 Aug 20
I highly recommend this company!!! 🤗🤗🤗🤗🤗🤗They work with harmless products, the workers are kind and professional..... And most important of all, MY HOUSE IS DEEP DISINFECTED. 10 stars from us!
Ilija Cankovic
19:32 14 Aug 20
Germ Hero did everything they said they would do. Easy booking, professional team, on time and detailed. They even disinfected my cars for free!
Melissa Sherman
16:30 06 Aug 20
"So glad I decided to go with Germ Hero, I got quotes from other companies and they were almost TWICE as expensive. Being a single working mom I needed something that worked around my busy schedule. Germ Hero came out the SAME day and did a great job!"