Germ Hero is set to launch on the east coast, and plans to start operations in Philadelphia the first week in November. Video from Co-Founder Eric Zhivalyuk, and full story below.
Local Brothers Teaming Up To Fight Coronavirus In Philadelphia
Germ Hero, Nevada's Leading COVID-19 Disinfection and Sanitizing Company Expanding To Philly
Philadelphia, PA – Oct. 27, 2020 – Germ Hero has been leading the charge in COVID-19 disinfection and sanitizing services in Las Vegas and today, owner and Philly native Eric Zhivalyuk, announces plans to expand services to the east coast. Zhivalyuk is teaming up with his brother Nathan Zhivalyuk to help create a safer Philadelphia. The two brothers plan to integrate Germ Hero into the local community partnering with many businesses, organizations, and schools, to provide a safer and cleaner environment for their customers, visitors, employees, and facilities.
Since the recent lockdowns, Germ Hero has quickly become the #1 disinfection and sanitizing service for homes and businesses throughout Southern Nevada and now plans to bring its industry leading technology to Philadelphia to help locals keep their homes safe and help businesses revitalize amid the pandemic. Germ Hero's services are EPA Certified, CDC recommended and 100 percent safe for people, pets, and the environment. Germ Hero's solutions can cover virtually every square inch of any home or business and kill 99.99% of germs, viruses, and bacteria in seconds on contact.
"This city is my home, it's a place where I was born and raised and to be able to bring Germ Hero's essential services to the residents, businesses, and community of Philadelphia is very important to me," Germ Hero's Founder Eric Zhivalyuk said. "Our mission is to keep people safe, and help businesses reopen their doors with confidence, and that is exactly what we have done for thousands in Las Vegas."
The company aims to do much more than just disinfect businesses and homes. Along with expert disinfection services, Germ Hero also focuses on helping businesses on an economic level by driving and boosting more local traffic through their doors with "Germ Hero Verified". ​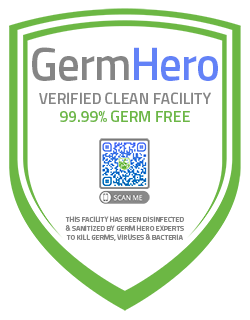 Every business served is provided with Germ Hero Verified Shield plaques to place around its location, letting their patrons know that the facility has been thoroughly and efficiently disinfected by Germ Hero experts. Each 'shield' displays a unique QR code for each business that allows customers to scan and verify the latest scheduled disinfection information.
Germ Hero has also made itself readily available to sponsor free disinfection services for regulated community events and good causes, to ensure their safety and success.
Germ Hero Philadelphia is set to launch on the east coast, and plans to start operations in Philadelphia the first week in November. If you would like more information about Germ Hero, please visit https://germhero.com or contact Germ Hero Philadelphia by phone at 267-900-GERM or email at [email protected]
###
Germ Hero delivers a fast, safe, and very affordable on-demand disinfection and sanitizing service that is proven to kill 99.99% of Germs, Bacteria, and Viruses (including COVID-19) in just seconds on contact using cutting-edge technology such as electrostatic spraying and EPA-Approved broad-spectrum disinfecting agents.
You can Download Germ Hero Marketing Kit Here:
https://germhero.com/kit/GermHero.pdf