Welcoming back customers and staff amidst the pandemic takes time and careful consideration and thorough disinfection of your business. Commercial disinfection services like those provided by Germ Hero are your perfect weapon against 99.99% of all germs, viruses, bacteria, cold, flu, and COVID-19. Our commercial disinfection services entail electrostatic spraying that eliminates 99.99% of germs and pathogens on all floors and shared surfaces. Not only does electrostatic disinfection allow you to return to business, but it also shows your customers and staff that their health and safety is a priority. If you are ready to take disinfection seriously, consider getting Germ Hero verified.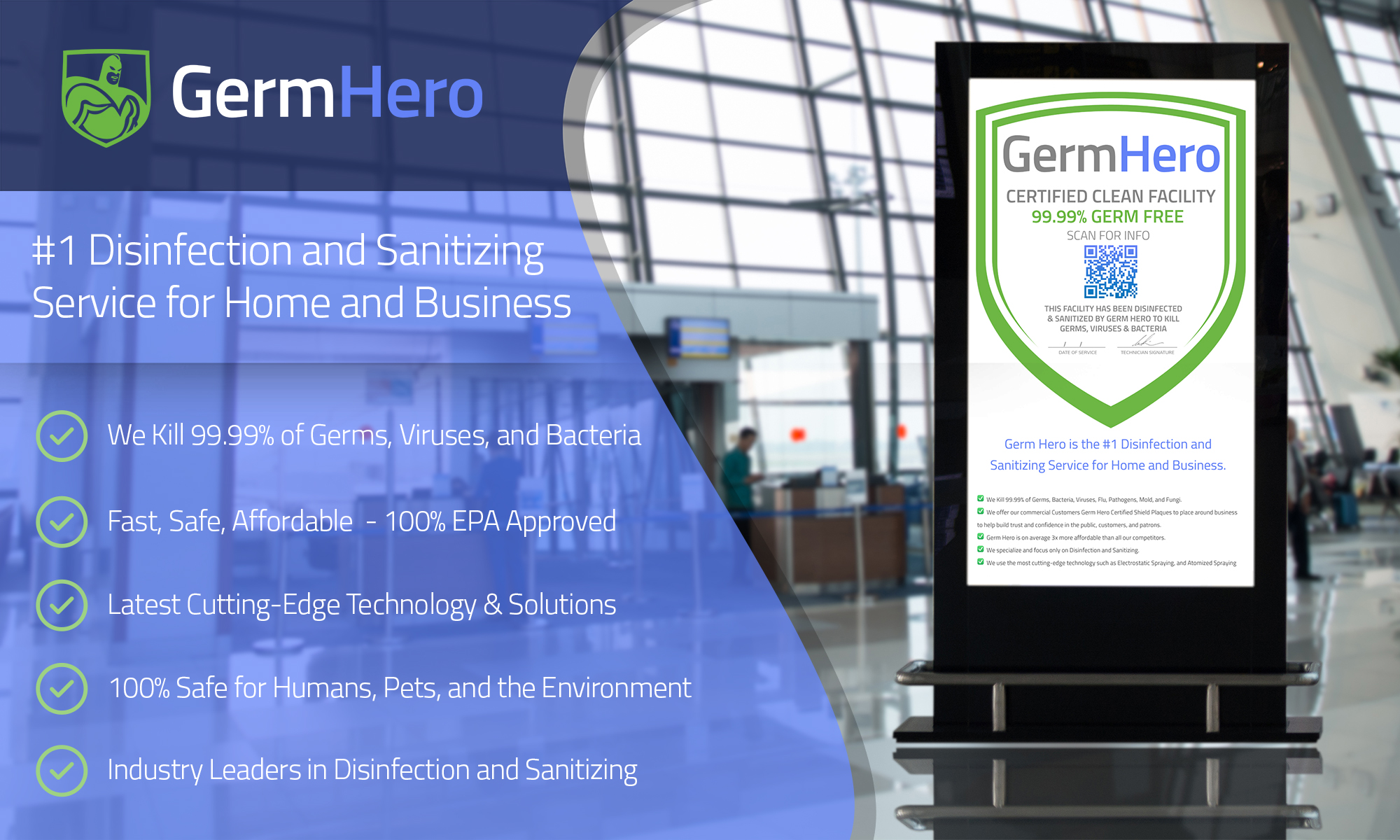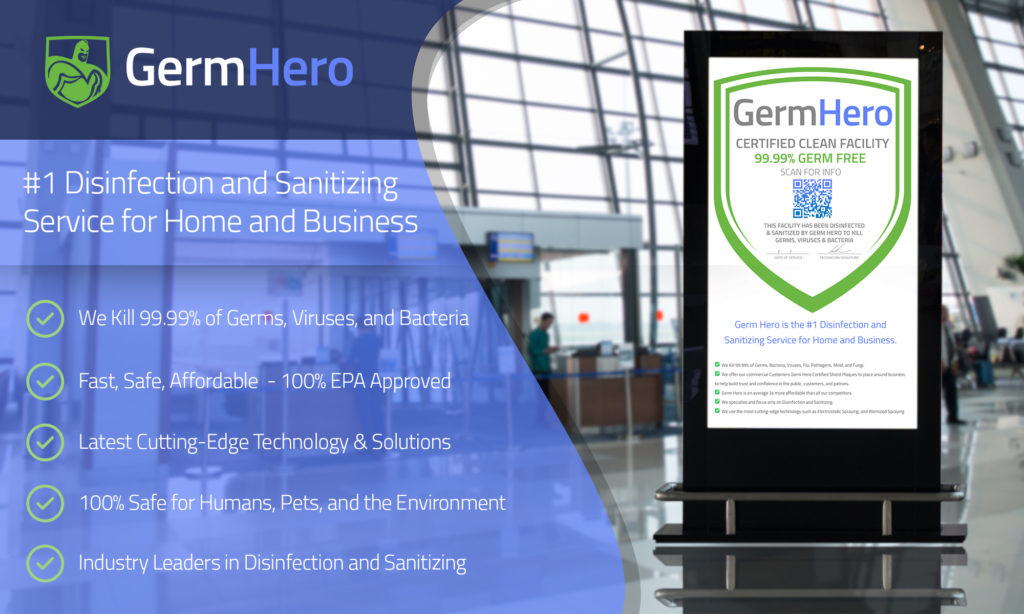 Prioritizing your Staff and Customers with Our Sanitizing Service
While returning to business and maintaining some regular schedule takes precedence these days, this cannot happen if you do not prioritize the safety of both your staff and clientele. With COVID spreading rampantly across the United States, disinfection is an issue that should never be taken lightly. When you take a step toward gaining Germ Hero verification, you effectively communicate your awareness, loyalty, and confidence in your brand and customers. Ultimately, a Germ Hero verification shows the world you are serious about doing the right thing, promoting the excellent business standards and ethics needed for a safe and sterile building.
When you hire Germ Hero for your business disinfection, our professionals will leave you with proof of our state-of-the-art EPA-certified sanitizing service. This verification comes in the form of a plaque that promotes your Germ Hero certified clean facility – 99.99% germ-free. It features a disclaimer at the bottom that reads as follows, "This facility has been disinfected and sanitized by Germ Hero to kill germs, viruses, and bacteria." With an interactive QR code featured on the plaque, staff and customers can gain insight into Germ Hero's reputable disinfection service and how they have effectively safeguarded your business.
What is Germ Hero Verified?
The Germ Hero Verified status creates instantaneous awareness that helps build trust and confidence in the guests and staff that frequent your business. Our Germ Hero Verified Shield Plaques are earned when your business utilizes regularly scheduled sanitizing services. Taking the initiative to remove viruses and safeguard your environment is necessary for today's climate. Germ Hero Verified Shield Plaques loudly announce to staff and customers that your facility has been adequately cleaned and sanitized by the experts at the leading Las Vegas disinfection company known as Germ Hero.
Furthermore, when your business or facility participates in regularly scheduled disinfection at least once monthly, that business gains participation in our Germ Hero Verified Business Directory. This directory exemplifies our top-notch sanitizing service and the fact that our industry leading disinfection service backs your facility. Germ Hero is trusted by thousands of companies and individuals; guaranteeing businesses are both clean and safe for inhabitants.
Driving Traffic Back through Your Facility's Doors
Besides providing a certified safe, Germ Hero Verification Plaque, your regularly scheduled disinfection will also be promoted on our website and social media. As a Germ Hero Verified customer, we do our best to promote your business and gain back the traffic to which you are accustomed. Through the promotion and exposure of your business's careful decision to maintain a safe space, you effectively build trust and confidence among your staff and customer base.
Moreover, when your customers take the time to scan out QR code, they are directed to our intuitive website to learn the specifics of our commercial disinfection company and what we have done to sanitize your building. We strive to educate your staff and customers, helping them understand which businesses are taking the necessary precautions to provide a safe, germ-free environment for all who enter these businesses.
What are the Benefits of Germ Hero Verification?
Custom disinfection and sanitizing solutions safely eliminate 99.99% of harmful impurities from germs to bacteria, pathogens, and everything in-between. Remove viruses today with regularly scheduled disinfection
Discounts available for recurring services
Promote trust and confidence among staff and customers
Create awareness to bring traffic back through your doors
Gain placement into Germ Hero's Verified Business Directory
Enjoy promotional opportunities via our social media and website
Create a custom disinfection plan that caters to your business facility
Get your Germ Hero Verification Today!
Germ Hero is the industry-leading Las Vegas disinfection company. Our friendly customer service and eager professionals are here day and night with affordable disinfection services that work around your undoubtedly busy schedule. Suppose you are ready to return to business as usual in a sanitized facility. If so, schedule a consultation with Germ Hero today. We will be more than happy to get you on the schedule with regular disinfections weekly, bi-weekly, monthly, or whatever works best for you. A Germ Hero Verification is the first step in getting your business back on track, clarifying staff and customers that their health is your priority!
Germ Hero
4625 S Wynn Rd #100, Las Vegas, NV 89103
702-937-5394