Germ Hero Provides Office and Business Sanitizing Services in Las Vegas – Business Disinfection & Office Disinfection with Germ Hero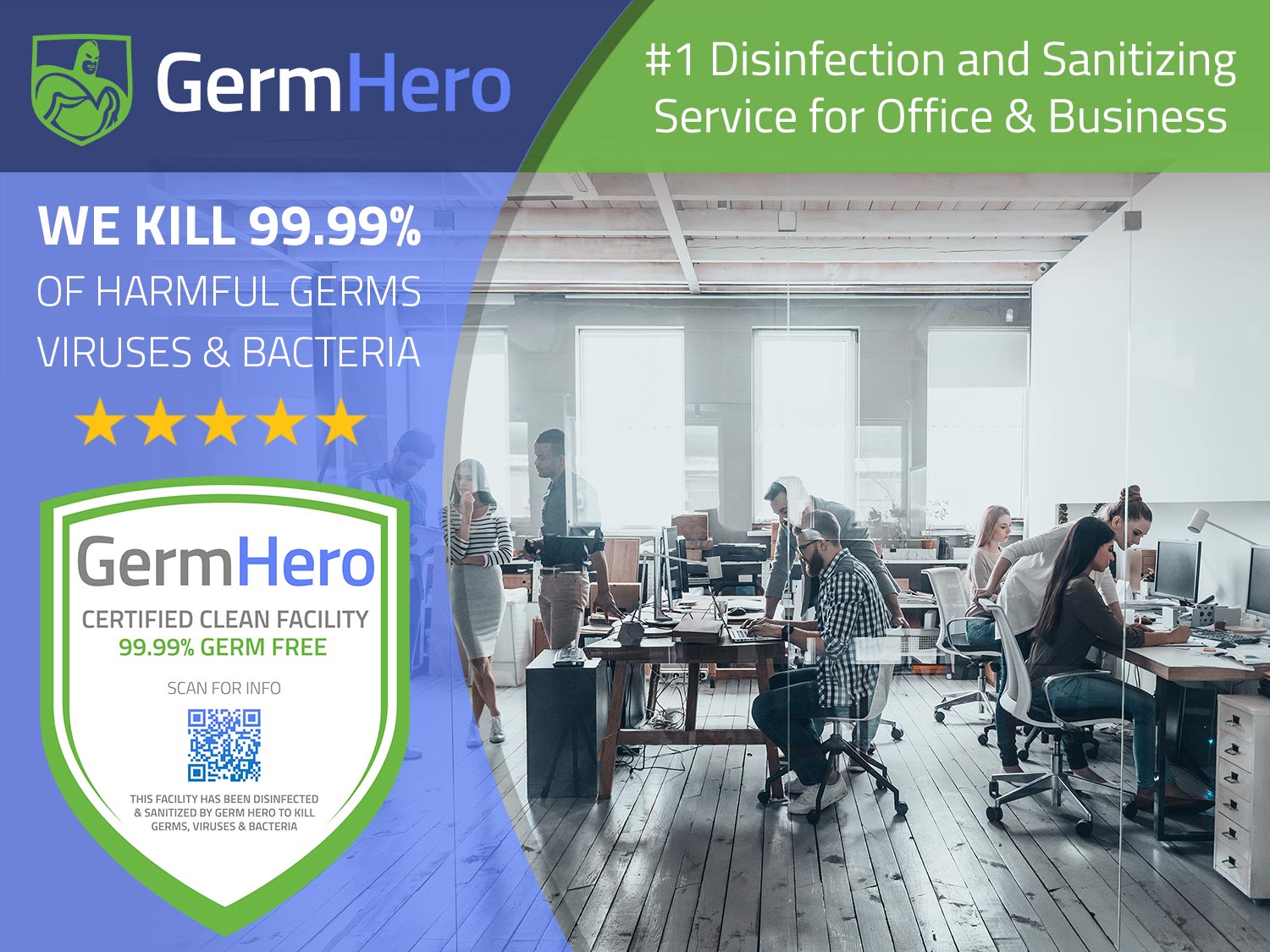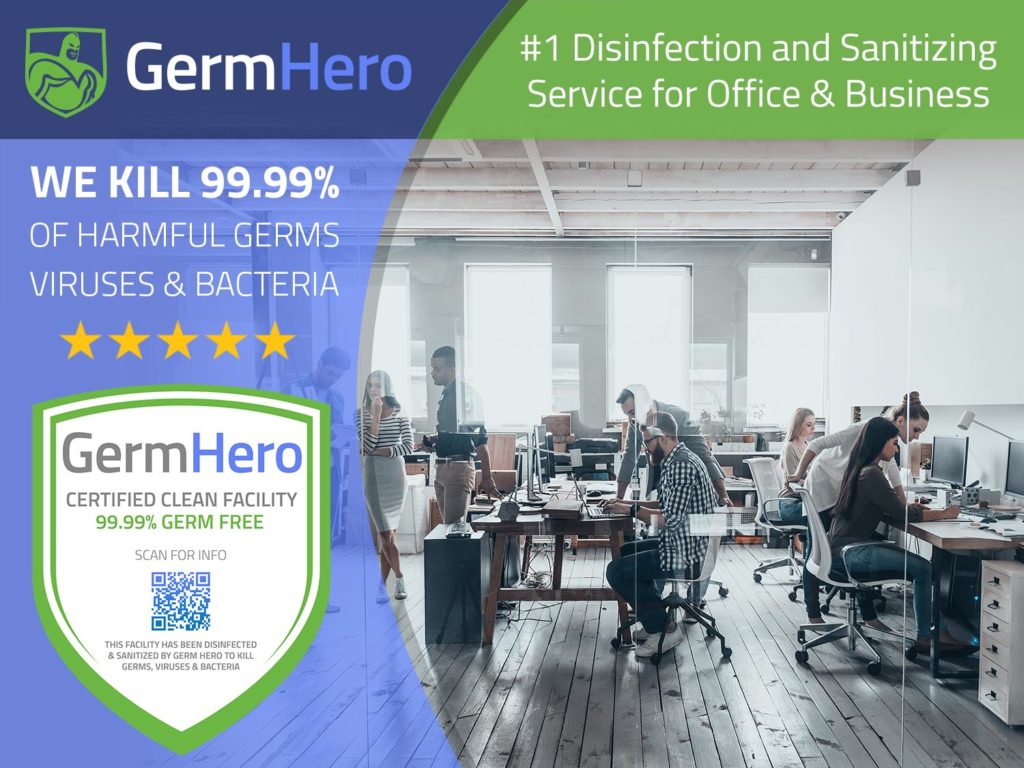 When it comes to essential jobs in Las Vegas Nevada, office work is one of those somewhat behind the scenes occupations that keep the wheels of business greased and rolling. No matter the industry, offices are a necessity for administration type services, employing people of all professional and educational backgrounds. With Covid-19 running rampant around the globe, getting staff back into the office is challenging, yet, crucial for both your business and the economy.
If you are ready to get back to work in a safe and sanitary environment, companies like Germ Hero provide comprehensive office disinfection and sanitizing services in Las Vegas you can trust to keep you, your employees, and your customers safe. When it comes right down to it, Coronavirus is a force to be reckoned with, and highly populated buildings must be disinfected to host staff once again. From clients and customers to staff, welcoming back the public requires thorough office sanitizing to facilitate a safe and secure work environment.
The Benefits of Regular Office Disinfection and Sanitizing
Beyond Covid-19 decontamination in Las Vegas, when you manage an office, it is better to have regular office disinfection scheduled at least bi-weekly. Office and business disinfection, in general, are appropriate procedures a business owner/manager should not neglect. Hiring a disinfection company like Germ Hero allows you the convenience of regularly scheduled office sanitizing, flexible scheduling, fast, free quotes, and fantastic customer service. Finally, at Germ Hero, we also use only EPA certified, internally tested disinfection solutions guaranteed to eliminate 99.9% of all pathogens, viruses, bacteria, flu, cold, and germs.
Germ Hero is the industry leader in sanitizing services. We use electrostatic spraying that eliminates the overuse of chemicals, leaving behind a disinfected area with no need for wiping. This fast, yet highly effective disinfection service not only allows you to welcome back workers but prevents the spread of dangerous viruses from the flu to Coronavirus, MRSA, and even HIV. Explore the additional benefits below.
Helps with infection control
Saves money in terms of expensive healthcare costs
Disinfects 50% quicker than other disinfection methods
Protects against cross-contamination and germ transference
Uses fewer chemicals that are also environmentally friendly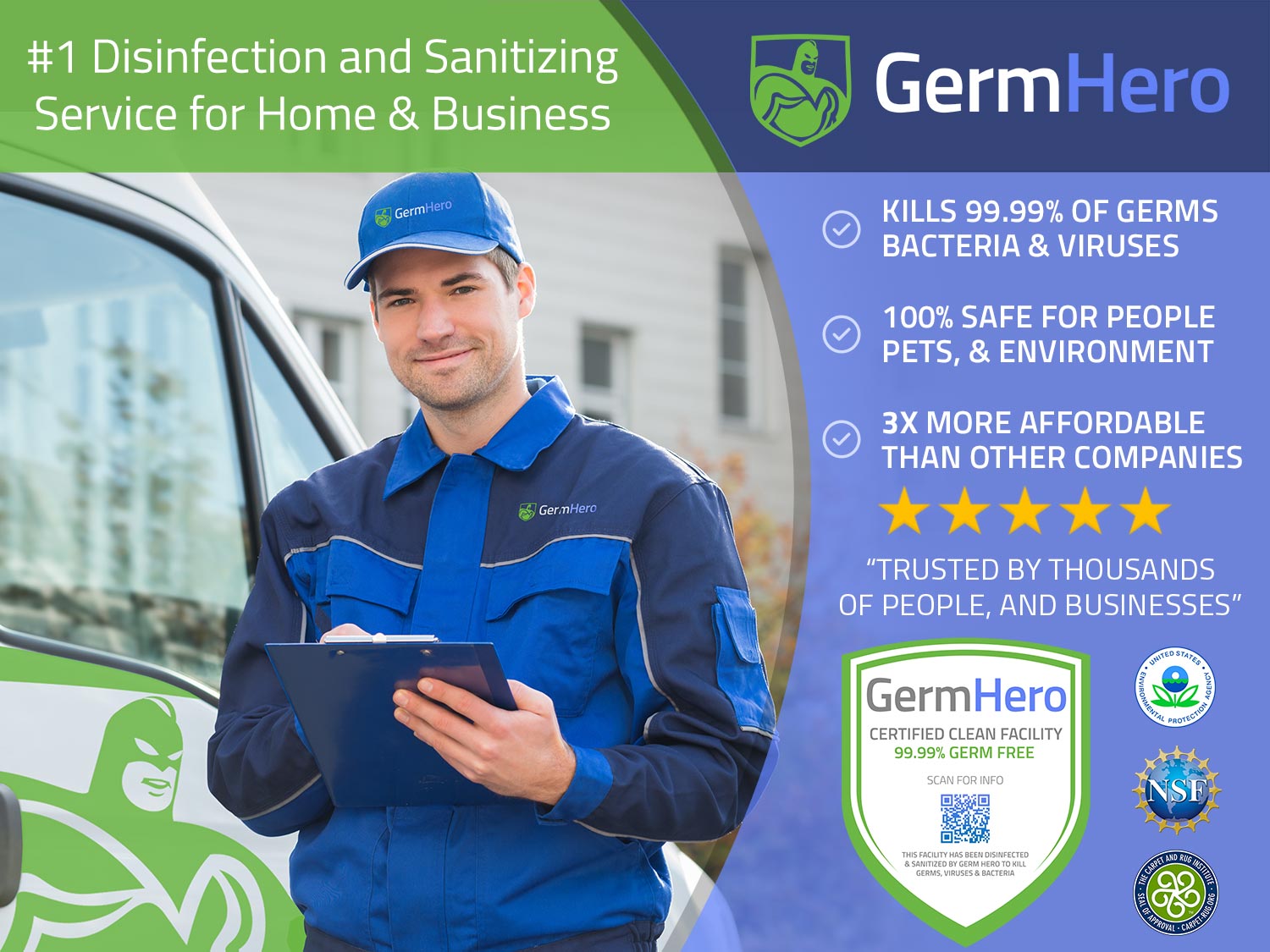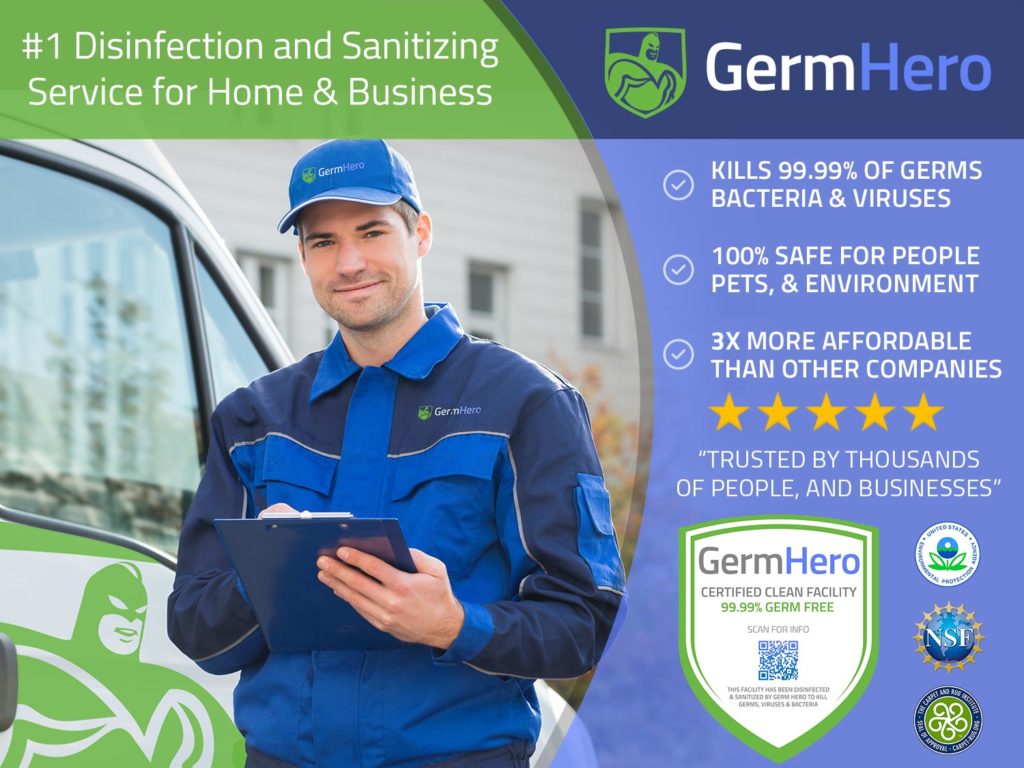 Is Office Decontamination Right for my Business?
Business sanitizing is performed in every industry you can imagine – especially when you factor in the current pandemic. The only way to safely get back to work is through Coronavirus disinfection. Therefore, the answer to the above question is yes, business sanitizing is a necessity for all facilities. Germ Hero provides business disinfection in Las Vegas and surrounding areas including Summerlin, Henderson, Clark County, North Las Vegas, and the City of Las Vegas
When discussing office buildings, it is estimated that the average American employee spends 34.4 hours per week in the office. These same employees are traveling to and from the office, eating in the building, bringing things from home, and sharing equipment. With so much travel, contact, and employees working in close quarters, Coronavirus disinfection is mandatory for a healthy, successful company. If you are ready to get back to work, welcoming back both staff and clients, Germ Hero is here to make this possible.
Office Sanitizing and Disinfection in Las Vegas and Clark County – Future of Business
The world has begun to change recently as we continue to deal with Covid-19. Navigating the business world can be challenging, considering, but office sanitizing is the definite steppingstone in terms of getting back to work. Furthermore, implementing a strict mask and hand-washing policy, along with regular office disinfection, is essential for continued safety, sanitation, and success with your business in Las Vegas
Get started with Germ Hero Business Disinfection and Sanitizing in Las Vegas
✅ We Kill 99.99% of Germs, Bacteria, Viruses, Flu, Pathogens, Mold, and Fungi.
✅ Germ Hero is on average 3x more affordable than all our competitors.
✅ We offer our commercial Customers Germ Hero Certified Shield Plaques to place around business to help build trust and confidence in the public, customers, and patrons.
✅ 100% Safe for Humans, Pets, and the Environment.
✅ Non-Toxic, Non-Harmful, Non-Abrasive, Non-Corrosive, Non-Flammable.
✅ No Ventilation, Wiping, Washing or Rinsing Required, even on Food Contact Surfaces.
✅ We specialize and focus only on Disinfection and Sanitizing.
✅ We use the most cutting-edge technology such as Electrostatic Spraying, and Atomized Spraying applications.
✅ We use powerful and super effective yet safe Broad-Spectrum disinfecting agents that are 100% EPA-Registered, and Certified.
✅ We are industry respected leaders in the disinfection and sanitizing industry.
✅ Faster turnaround time / process, highly trained experts, friendly outgoing staff.
✅ Incredible personalized support, and custom solutions.
✅ Flexible, and secure online estimates. booking, invoicing and payments.
✅ Longer hours, early mornings, late evenings (we work around and with businesses schedules).
✅ Backed by Germ Hero's internal analysis department and vigorous testing of every product, solution, and technology on the market. (We only use technology with the best results for our customers.