Germ Hero Sanitizes Classrooms, Schools, Education Centers, Day cares and Nurseries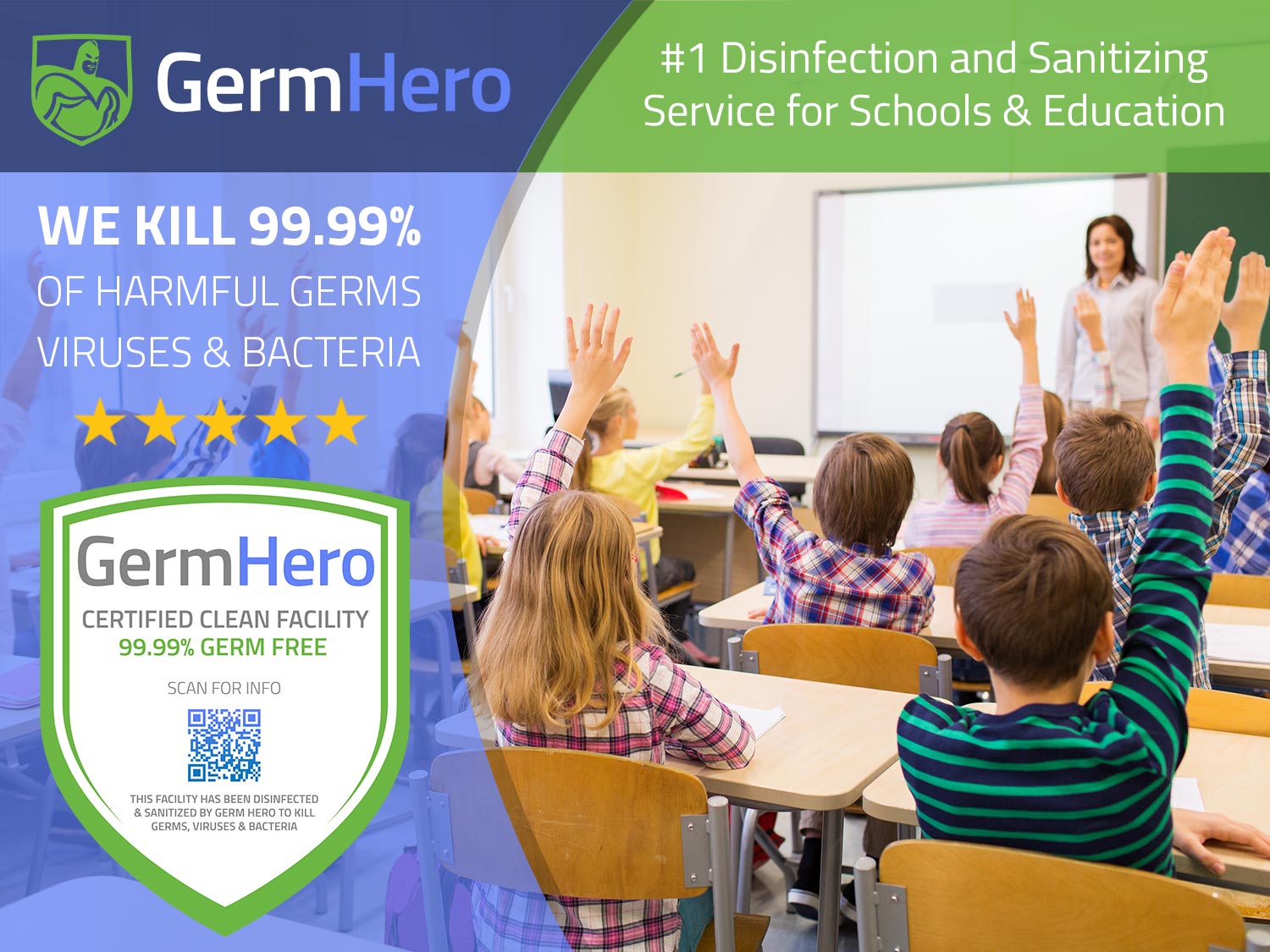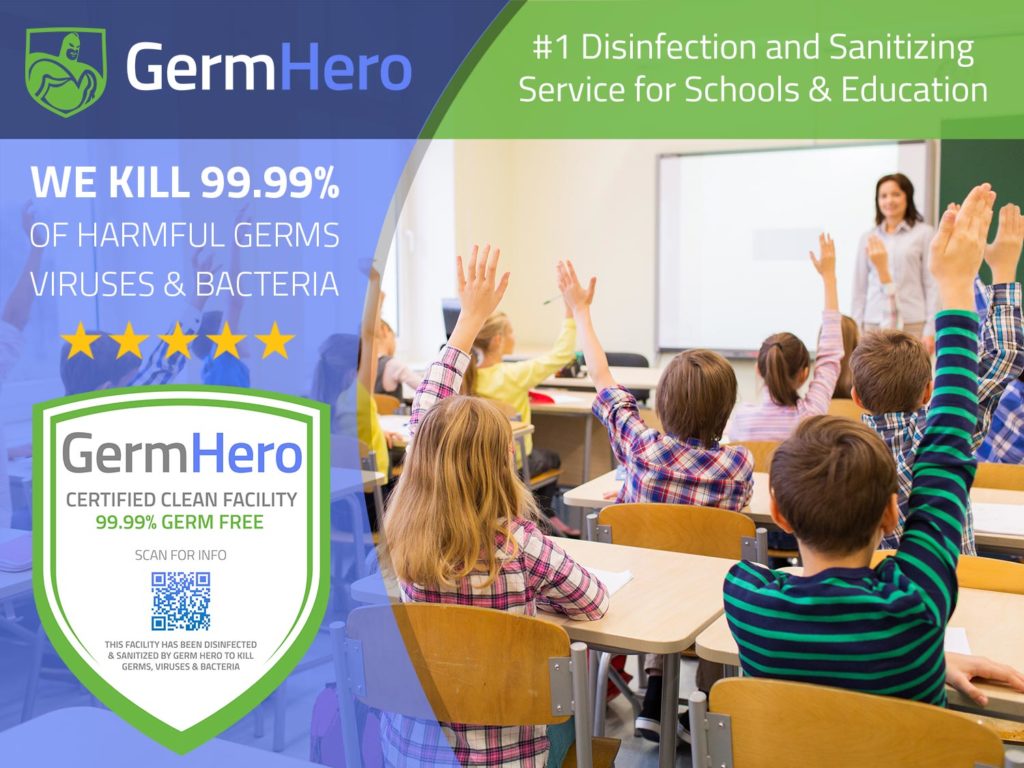 School Sanitizing is more important than ever. The season is upon us as kids of all ages return to school in one form or another. Being that there is a pandemic, however, some schools are offering remote learning while others are transitioning from virtual to in-person sessions. No matter the circumstances, schools are a breeding ground for germs. With some learning facilities housing hundreds to thousands of students at a time, school disinfection is crucial for the health and safety of staff and students.
The Facts Behind the Need for School Sanitizing
It is a fact that kids in elementary and middle school can touch and re-touch over 300 surfaces within just thirty minutes. Furthermore, the flu virus itself can travel up to 12 feet through the air at a terrifying 100 mph. Then we have children who go to daycare or the nursery with weaker immune systems, facing all the same germs. As you can see, from nursery disinfection to college disinfection, taking care of our nation's children begins with complete decontamination of these spaces.
When you consider these facts alone, it is easy to conclude that school sanitizing is not only necessary for the back to school season, but on a consistent, ongoing schedule. The good news is that companies like Germ Hero offer affordable services on a flexible schedule with the option of ongoing sanitation services. And when it comes to educational facilities, weekly disinfections are the best way to go.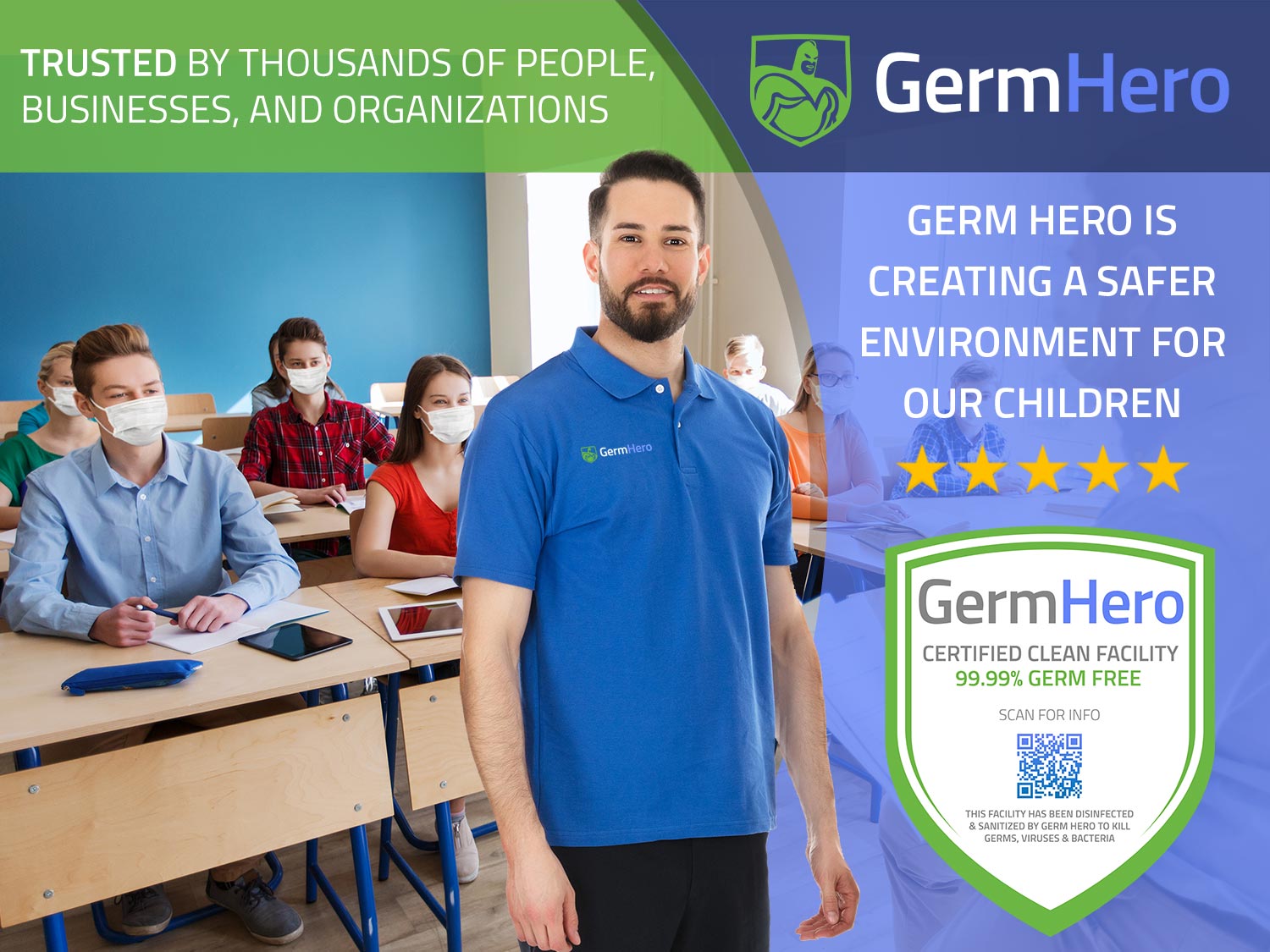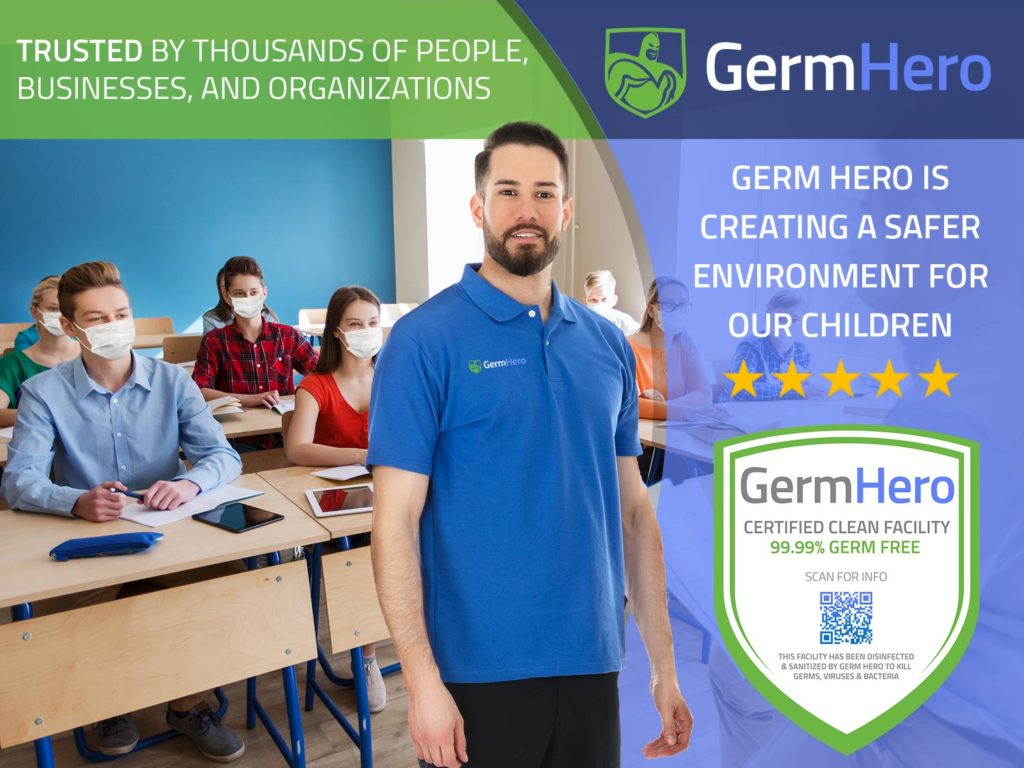 Electrostatic Disinfection and Coronavirus Sanitizing for Schools, Colleges, and Universities
Germ Hero provides school disinfection services utilizing internally tested solutions that kill 99.9% of germs, bacteria, pathogens, cold, and viruses. With electrostatic spraying, your building is misted with our unique solution. It works by triggering atomization by combining the solution with air. Not only is it highly effective, but it is also quick and easy without zero need to wipe anything down. This is a service that can be done on the weekends, providing quick and convenient school disinfection services before people return Monday.
Monitoring Covid-19 and Our Daily Habits for a Safe Environment
Beyond regular school disinfection, if you oversee a school building, there are several steps to keeping the building safe and sanitary for all those who enter the space. In addition to regularly scheduled school disinfection with a professional sanitation company, one must also implement space and hygiene rules—especially now. These 'rules' entail having students and staff wash their hands frequently, respect a mandatory mask policy, practice consideration and respect of space, and practice overall good hygiene.
Being that schools have their janitorial system in place, now is the time to buckle down should you be the one overseeing that department. By raising the standards and increasing the frequency in which the building is cleaned from day to day, your school can potentially remain quite sanitary until your next Germ Hero Service. As you can see, school sanitizing does not end with commercial disinfection.
Now more than ever, busy spaces like school buildings require ongoing care to protect the health of staff and students. Together with a commercial disinfection company like Germ Hero and regularly scheduled school sanitizing, it can be possible once again to facilitate students in a healthy, nurturing environment. In the end, Coronavirus decontamination is the only way to responsibly handle this back to school season.
Get started with Germ Hero
✅ We Kill 99.99% of Germs, Bacteria, Viruses, Flu, Pathogens, Mold, and Fungi.
✅ Germ Hero is on average 3x more affordable than all our competitors.
✅ We offer our commercial Customers Germ Hero Certified Shield Plaques to place around business to help build trust and confidence in the public, customers, and patrons.
✅ 100% Safe for Humans, Pets, and the Environment.
✅ Non-Toxic, Non-Harmful, Non-Abrasive, Non-Corrosive, Non-Flammable.
✅ No Ventilation, Wiping, Washing or Rinsing Required, even on Food Contact Surfaces.
✅ We specialize and focus only on Disinfection and Sanitizing.
✅ We use the most cutting-edge technology such as Electrostatic Spraying, and Atomized Spraying applications.
✅ We use powerful and super effective yet safe Broad-Spectrum disinfecting agents that are 100% EPA-Registered, and Certified.
✅ We are industry respected leaders in the disinfection and sanitizing industry.
✅ Faster turnaround time / process, highly trained experts, friendly outgoing staff.
✅ Incredible personalized support, and custom solutions.
✅ Flexible, and secure online estimates. booking, invoicing and payments.
✅ Longer hours, early mornings, late evenings (we work around and with businesses schedules).
✅ Backed by Germ Hero's internal analysis department and vigorous testing of every product, solution, and technology on the market. (We only use technology with the best results for our customers.