Big businesses from company corporate buildings to hospitals are undoubtedly high traffic areas. In turn, commercial business sanitizing services are a must for maintaining a happy and healthy environment. From Vegas to Philadelphia, Germ Hero provides in-depth cleaning solutions to any home or business.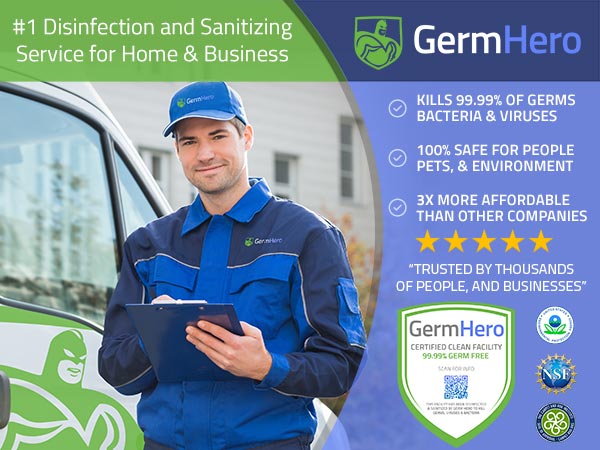 Preventing the spread of dangerous viruses like COVID-19 is our passion. Our experts stop at nothing to deliver the results needed for a successful, healthy business.
Germs and harmful pathogens are potentially lurking around every corner, especially big businesses that see a good deal of staff and customer foot traffic. With so many shared common areas and surfaces within these institutions, the risk of spreading harmful impurities from person to person is massive. To protect your assets, staff, and family, regularly scheduled deep cleans within your business is crucial. Look at some of the ways below for deep cleaning your big business.
Get Commercial Disinfection Assistance from Germ Hero
Business sanitizing services like those provided by Germ Hero is the perfect first step when reopening and maintaining a successful business. We are proud to use state-of-the-art technology for electrostatic spraying services on which you can depend. Our passionate experts perform vigorous internal testing of all products and equipment, boasting a disinfectant plan that kills 99.99% of all germs, bacteria, and harmful pathogens. In addition to internal testing, our disinfectant solutions are EPA-certified and backed by science.
While we are a relatively young company, our success and efficacy are exemplified by the thousands of businesses and homeowners that entrust us with the sanitation of their building. When you choose to use the services of Germ Hero, we work with you on your schedule from early morning to nighttime cleanings. With flexible scheduling and affordable services, we make it easy for anyone to get the sanitizing they need to stay safe in these uncertain times.
Should you choose to use Germ Hero regularly, not only do you earn our Certified Sanitized plaque, you gain entry into our official Germ Hero Verification database. With a shout-out on our website and social media pages, show the world you mean business regarding the health and safety of those around you. Only then can you run a business in good conscience, knowing you are doing everything within your power to safeguard your assets.
Daily Maintenance for a Consistently Germ-Free Deep Cleaned Business
While Germ Hero provides the steppingstones needed to promote a sanitized business, one must take daily maintenance into account to not convert back to unsanitary conditions. While you may not be able to achieve the results of a commercial sanitizing service yourself, there are precautions one should consider for maintaining a safe environment.
Mandatory Hand Washing
One of the more crucial responsibilities of those that inhabit space is frequent hand washing. Encourage your employees and customers to wash their hands on a schedule and by their daily activities. For instance:
Wash hands before and after entering the building
Wash hands after the bathroom
Wash hands before and after a snack/meal
Wash hands after contacting joint surfaces
Wash hands after handling mail and paperwork
Everyday Sanitation
Daily sanitation should occur multiple times a day. With a janitorial staff in place, they should be instructed to wipe surfaces multiple times daily with EPA-certified disinfectants. From floors to desktops and everything in-between, cleaners like Clorox Bleach Wipes are ideal for eliminating germs and harmful pathogens.
Practicing Health Consciousness
You cannot control every aspect of your environment, although you might want to. Your staff, clients, and family should be aware of any symptoms they have from a cough to fever, nausea, and congestion. COVID presents itself through these symptoms and more. Encourage health consciousness among those around you as it could make a difference that prevents the spreading of germs. Anyone exhibiting symptoms like these should be instructed to remain at home.
Deep Cleaning Big Businesses with Germ Hero
Successful businesses are vital to keeping the economy going, providing any number of services to the public. If you are at the helm of a big business, now is the time to move regarding deep cleaning. The experts at Germ Hero are ready and willing to get you started on your deep cleaning journey; with flexible scheduling and affordable pricing, we conveniently disinfect businesses both large and small. With electrostatic spraying and internally tested disinfectants, you can count on us to remove viruses and eliminate germs every time. Gain our Official Germ Hero Verification through regularly scheduled cleanings to show your staff and clients you prioritize their health above all else.
Germ Hero
4625 S Wynn Rd #100, Las Vegas, NV 89103
702-937-5394