Germ Hero Commercial Sanitizing and Disinfection Services
If you own a business or other commercial service, you are likely already on a full schedule with plenty of daily tasks, including handling unpredictable scenarios that can arise. In the end, managing a commercial business takes much work, especially when you consider its need for frequent cleaning, disinfection and sanitation. During a pandemic, business disinfection is a must to keep businesses running as close to usual as possible. From office disinfection to hospitals, schools, and everything in-between, Germ Hero does the hard work for you so you can remain focused on your business.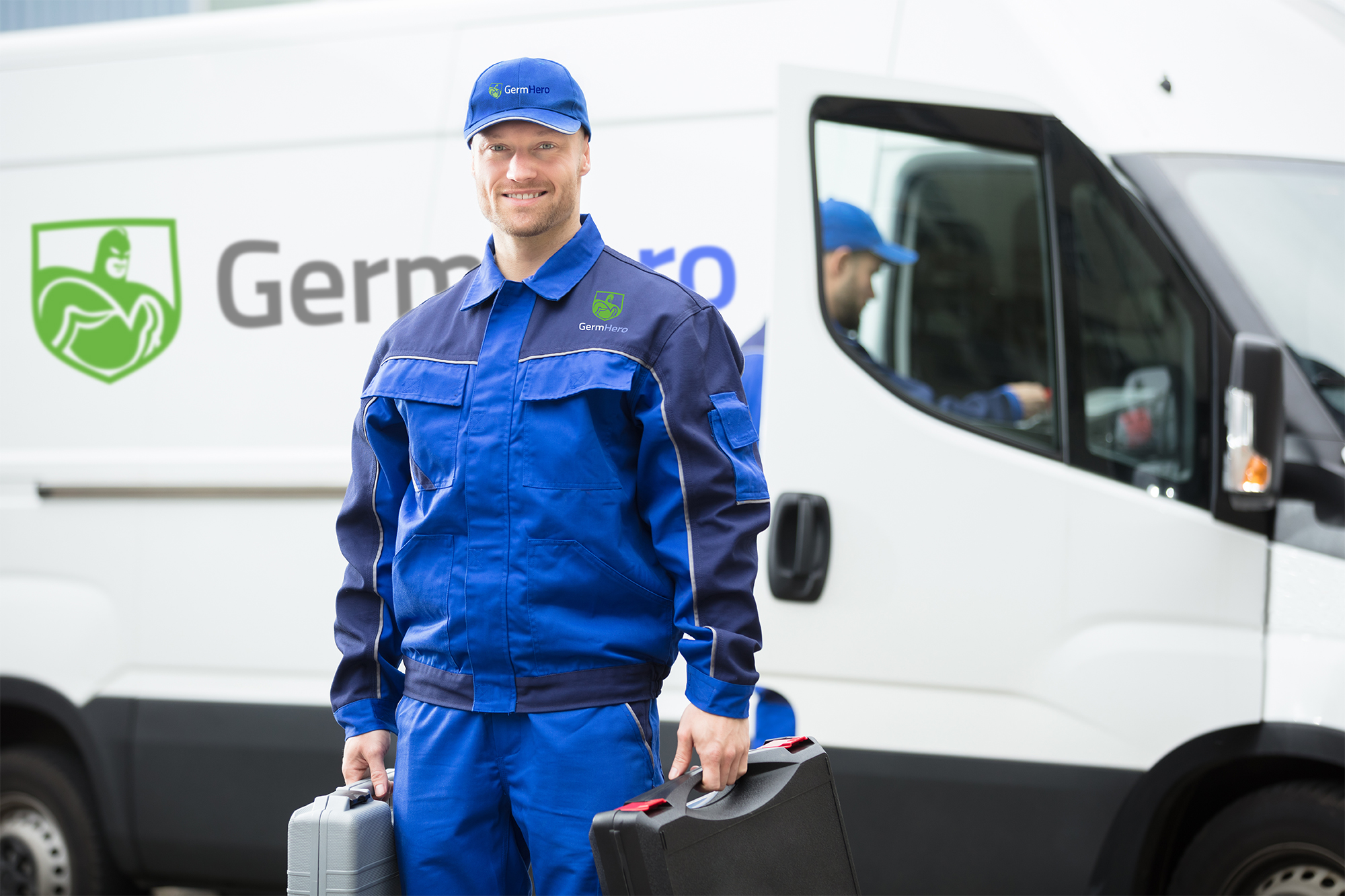 Backed by science, the EPA, and a crew of passionate professionals, Germ Hero, is fully capable of providing complete commercial sanitizing services on any scale and schedule. When you are ready to get back to work, thorough business disinfection is the first real step one can take. Germ Hero Disinfection and Sanitizing services allows you to welcome back staff and employees into a safe environment free of germs, bacteria, pathogens, viruses, and more. With flexible scheduling and a free online consultation, our disinfection service is here to eliminate threats to both our health and environment.
Why Should you Choose Germ Hero?
Fast disinfection available on YOUR schedule, no matter how early or late in the day
Monthly and bi-weekly disinfection options are available
Free online consultations and friendly, top-notch customer service
EPA certified and internally tested solutions that kill 99.9% of germs, flu, viruses, pathogens, and bacteria
Receive a Germ Hero Certified plaque that shows customers they can trust and be confident in the security of your business
100% Safe for Humans, Pets, and the Environment
Cutting edge technology and equipment that provides thorough disinfection that cannot be beaten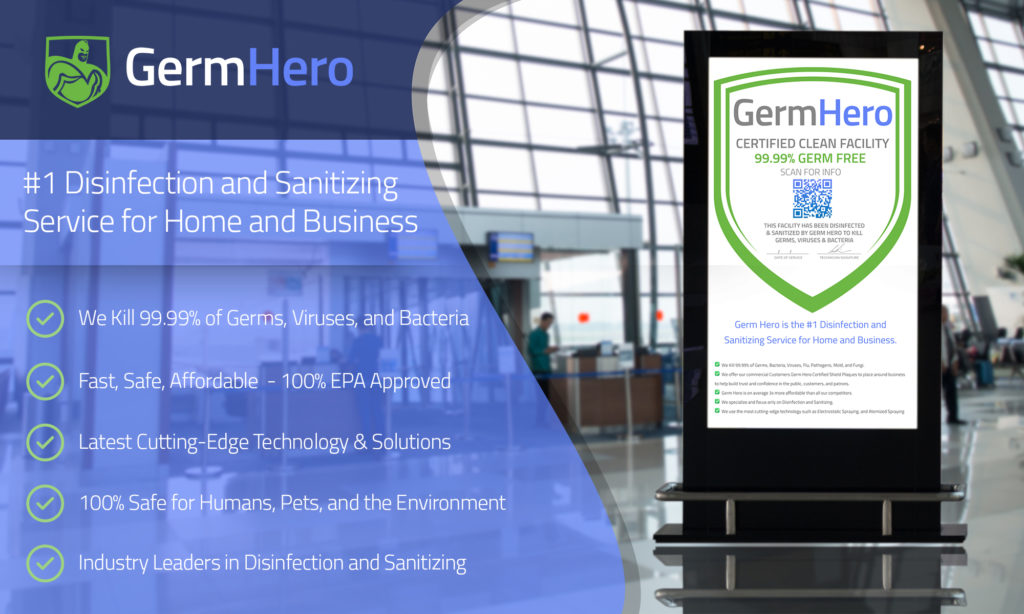 Get a Fresh Start with Germ Hero's Commercial Disinfection
With the Corona Virus running amuck around the globe, many cannot wait to get back to more normal times. One of the more popular outings many of us are looking forward to is going out to eat, paying patronage to our local restaurants. Luckily, Germ Hero makes it possible to get these restaurants back open, providing electrostatic restaurant sanitation that is safe even on food surfaces.
Hotel & Motel Disinfection and Sanitizing
Whether patrons are traveling or simply looking for a night away from the mundane, many hotels remain in business. What makes this possible, you ask? Hotel sanitation services from reputable companies like Germ Hero go in and disinfect every room and common area alike. Ultimately, hotel disinfection keeps hotels in business to safely accommodate travelers.
Offices Disinfection and Sanitizing
Offices, factories, manufacturing plants, and the like are staples in America's business climate, often running the behind the scenes work crucial to the industry. Therefore, office decontamination is an absolute must when it comes to keeping business running as usual. At Germ Hero, we offer office sterilizing for buildings of all sizes, making it easy for people to return to work.
Commercial disinfection is our specialty at Germ Hero. No matter the size or scale of your building, we provide complete commercial sanitizing backed both by science and the EPA. When you are ready to get your staff back to work, Covid disinfection is an absolute must.
Car Dealerships & Auto Repair Disinfection and Sanitizing
From the building to the actual automobiles found on the lot, auto dealerships are not immune to threats of viruses and bacteria. With Covid being as widespread as it is, a thorough auto dealership decontamination is the only way to be sure your employees and future customers alike are protected. Germ Hero not only provides decontamination in your shop, but also inside the cars you wish to sell. That is right -Germ Hero offers building AND automobile disinfection at an affordable price.
Gyms, and Fitness Centers Disinfection and Sanitizing
Fitness centers are in dire need of sanitation services before they allow members back to exercise. When you consider the amount of foot traffic and sweat the gym sees daily, it is easy to understand the need for fitness center disinfection. Furthermore, this is one of those businesses that require ongoing attention, preferably with weekly or bi-weekly sanitation services as offered at Germ Hero.
School & Educational Facility Disinfection and Sanitizing
Depending on where you live, it is back to school time in many areas around the country. From Preschool and daycare to Kindergarten, high school, and even college, these facilities house our loved ones in a nurturing, educationally friendly environment. As such, school disinfection cannot be neglected—especially when you consider the amount of germs kids carry. From nursery sanitizing to college disinfection, weekly cleanings are a must for protecting our kids.
Hospitals and Medical Facility Disinfection and Sanitizing
It is no secret that hospitals and medical facilities have seen their share of Covid as well as several other viruses, pathogens, and general bacteria. Hospital disinfection is another specific service that should be done at least weekly to ensure your patients are well protected. Those coming into a hospital or doctor's office expect a sanitary environment that allows them the nurturing they need to get better Without medical facility disinfection, there is simply no way to guarantee their safety.
Manufacturing Facility Disinfection and Sanitizing
Manufacturing is the backbone of America, employing 12.7 million people throughout the United States. With so much coming and going, there are naturally a good deal of germs and other possible threats trafficked through. With weekly, bi-weekly, and monthly options, Germ Hero provides manufacturing facility sanitation so that you can keep the industry rolling without infection.
Warehouse Disinfection and Sanitizing
Warehouse disinfection is incredibly pertinent for several reasons. Take Amazon for instance. Amazon warehouses account for a good chunk of the package and parcel industry, with close to 1,600,000 packages going out daily. As you can likely imagine, this calls for the services of hundreds of thousands of employees hired to sort, package, and even deliver parcels. To protect such a large staff, warehouse decontamination on a regular basis is essential.
Government Building Disinfection and Sanitizing
Government buildings are plentiful all over the country, with state, city, and even county buildings, each serving important functions. From the Secretary of State to the Social Security Administration, government building decontamination citizens both secure and up to date on legal matters. With this sort of building disinfection, it is better to stick to a weekly or bi-weekly schedule provided by Germ Hero.
Banks and Financial Institutions Disinfection and Sanitizing
Financial institutions include central banks, insurance companies, credit unions, and beyond. Even during a pandemic, the services provided by these facilities are still integral. Commercial disinfection inside these buildings is essential for protecting both clients and staff. If you oversee a financial institution, Germ Hero is proud to offer financial institution decontamination at an affordable rate and on YOUR schedule.
Churches and Religious Facility Disinfection and Sanitizing
From churches and temples to synagogues and mosques, religious facilities include places of worship and the like. Amid the pandemic, many religious facilities opted to stay open for as long as possible, helping attendees looking for light in these dark times. With the frequent coming and going of men, women, and children of all ages, it is crucial to hire a cleaning service for religious facility disinfection. Whether you choose a weekly or monthly sanitation schedule, keeping these facilities clean means a lot to all its visitors.
Post Construction Disinfection and Sanitizing
Post construction means the structure has been completely erected and left for inhabitants by construction workers of all sorts. Putting up a building requires hard work from so many different avenues, all bringing in their own germs and bacteria. That is why it is so important to schedule post construction disinfection before you begin moving people in.
Building sanitation with the right company will effectively clear out all the germs, pathogens, viruses, bacteria etc. that was left behind. When your business building is ready in terms of construction, make sure it is also ready for inhabitants by scheduling a thorough decontamination service.
Event Venues Disinfection and Sanitizing
While all the locations we have discussed thus far see a good deal of traffic, event venues see probably the most patrons at one time. From concerts to sports events, event venue disinfection is an absolute must, especially with frequent events scheduled. To protect the patrons and staff at your event venue, Germ Hero offers cleaning schedules that fit around your needs to ensure total decontamination you can trust.
Germ Hero: Fast Business Sanitizing is Unmatched by Other Disinfection Companies
No matter the size of your commercial space, Germ Hero works hard to provide fast, thorough disinfection that guarantees the safety of your staff and customers alike. Using electrostatic disinfection, Germ Hero utilizes only the best in terms of disinfection solutions. In fact, our solutions are backed both by science and the EPA, with internally tested solutions that eliminate 99.9% of all germs, bacteria, flu, colds, viruses, pathogens, and more. Moreover, there is no need to wipe down or ventilate the sanitized areas, making it safe for use even on food surfaces.
The staff at Germ Hero are enthusiastic and well-experienced in sanitation, providing fast, friendly service to all commercial spaces – no matter the size. With flexible scheduling, free online estimates, and passionate staff, Germ Hero makes it easier than ever to get back to work in a sanitary space. Because your business is ultimately your livelihood, you can think of Germ Hero as your saving grace, here to help you maintain professional success and trust from your staff/customers. Do not trust your business sanitation with just anyone – choose the experts at Germ Hero to receive affordable service that will leave your building wholly sanitized. Contact us today to get started with a free estimate and let us discuss your options.