---
Safer Home = Safer Family = Safer School 😊
---
Germ Hero is Excited to Service and Fundraise with Parents and Teachers of CornerStone Christian Academy – Let's Keep our Families, Homes, School, and Community Safe.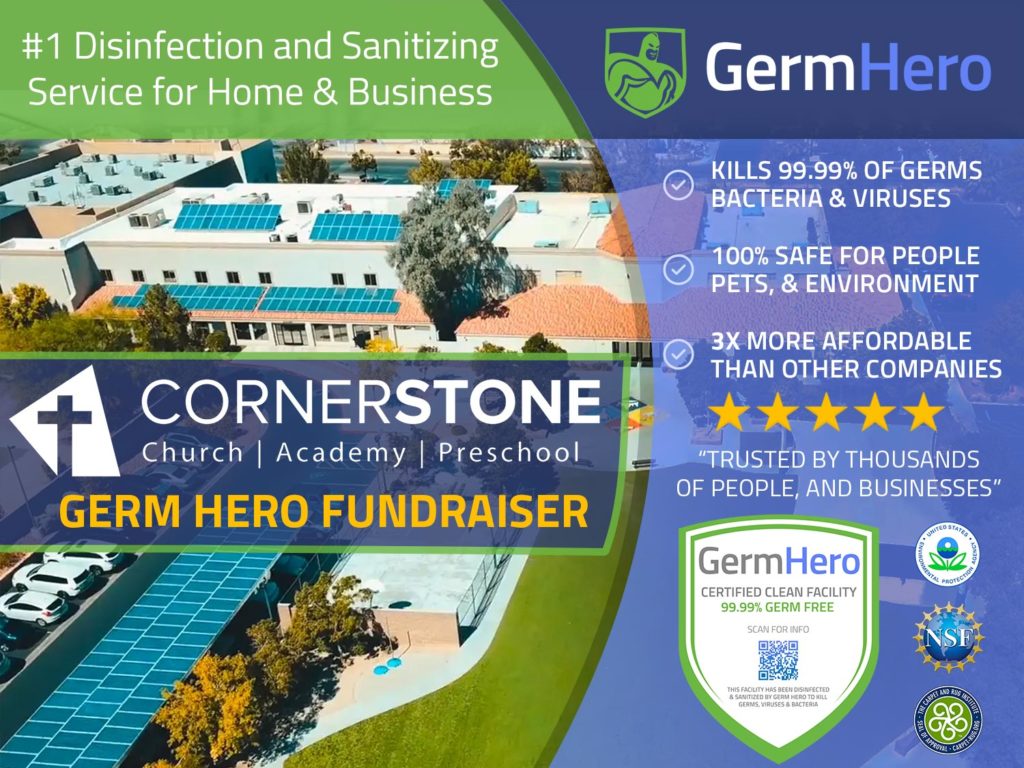 Germ Hero is partnering with Las Vegas Parents and Teachers of CornerStone Christian Academy to fundraise for CCA, and in doing so will help keep it's families, homes, school and community safe. Germ Hero will deliver expert home and residential disinfection and sanitizing services, and give 5% of every booking right back to CornerStone PTF.
What is Germ Hero? What do we do?
Germ Hero is the #1 Disinfection and Sanitizing Service for Home & Business. We offer Fast, Affordable, and Safe Disinfection and Sanitizing Services that kill 99.99% of harmful Germs, Viruses, Bacteria, Flu, Pathogens, Mold, and Fungi in your Home or Business.
Let Germ Hero be the true hero in protecting our children from harms way.
Schools and childcare facilities can be breeding grounds for a wide array of bacteria and viruses. Let Germ Hero be the true hero in protecting our children from harms way. We work with many schools on best practices and provide disinfection services with love, and care.
In addition to concern for the well-being of the student and teacher populations, lost days due to infectious disease can have a financial impact as state funding is often tied to attendance. By using our Germ Hero technology to kill a vast array of pathogens on a daily basis and to continually combat bacteria that can cause damage, stains, and odors, academic facilities can improve the overall environment for students, staff, and visitors while saving costs and reducing toxic chemical use.
---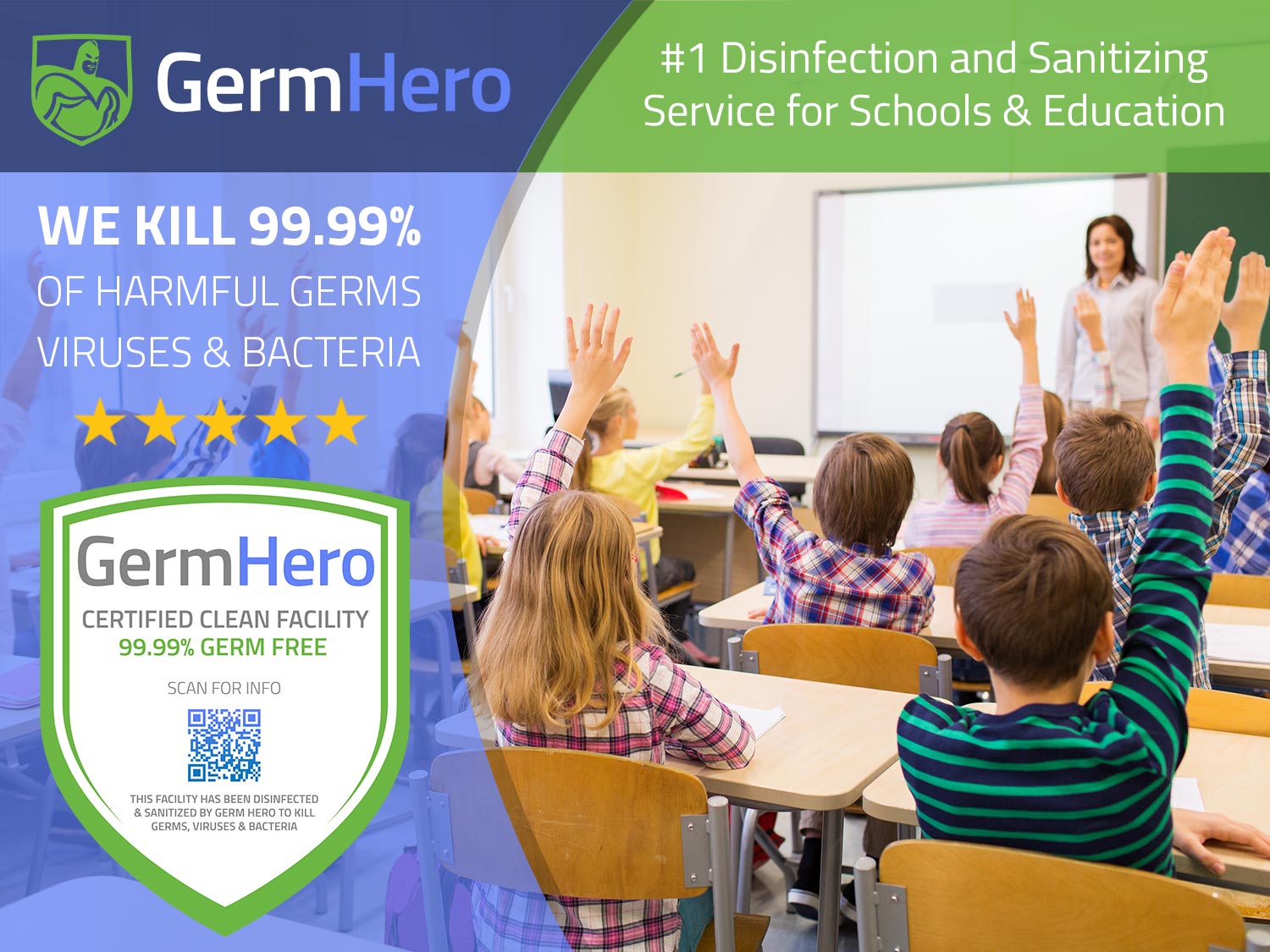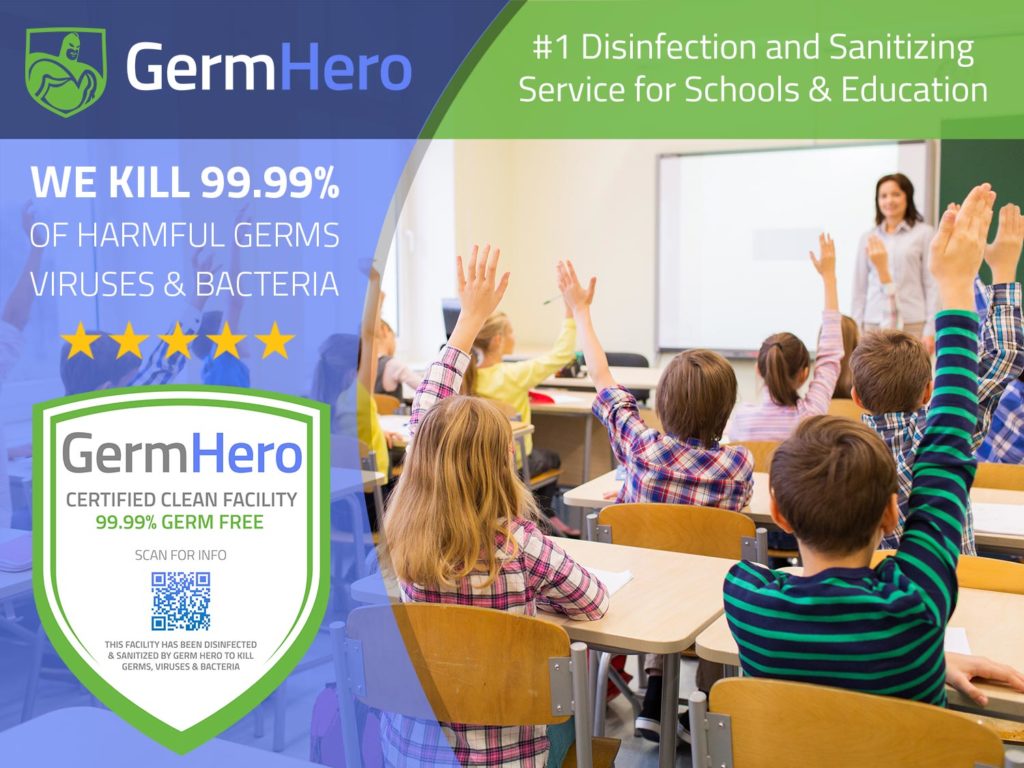 About The Invisible Enemy
Bacteria and viruses that prey on children are stronger than ever. They travel faster, farther, and are becoming increasingly resistant traditional decontamination techniques. Much of what once worked to combat these dangerous microorganisms becomes less effective with every passing day.
Educational facilities of all kinds have a special duty to protect their students from the spread of disease. Recent advances in disinfectant and infection prevention techniques give administrators a great opportunity to keep students and staff happier and healthier by cutting down on transmission at their schools.
✅ We Kill 99.99% of Germs, Bacteria, Viruses, Flu, Pathogens, Mold, and Fungi.
✅ Germ Hero is on average 3x more affordable than all our competitors.
✅ 100% Safe for Humans, Pets, and the Environment.
✅ Non-Toxic, Non-Harmful, Non-Abrasive, Non-Corrosive, Non-Flammable.
✅ No Ventilation, Wiping, Washing or Rinsing Required, even on Food Contact Surfaces.
Why choose Germ Hero?
Your home is probably one of the biggest investments you'll ever make. It's also the place you, and those you love, spend most of your time. You should consider keeping your living space as clean and healthy as you can with Germ Hero proven disinfection and sanitizing services.
✅ We specialize and focus only on Disinfection and Sanitizing.
✅ We use the most cutting-edge technology such as Electrostatic Spraying, and Atomized Spraying applications.
✅ We use powerful and super effective yet safe Broad-Spectrum disinfecting agents that are 100% EPA-Registered, and Certified.
✅ We are industry respected leaders in the disinfection and sanitizing industry.
✅ Faster turnaround time / process, highly trained experts, friendly outgoing staff.
✅ Incredible personalized support, and custom solutions.
✅ Flexible, and secure online estimates. booking, invoicing and payments.
✅ Longer hours, early mornings, late evenings (we work around your schedule).
✅ Backed by Germ Hero's internal analysis department and vigorous testing of every product, solution, and technology on the market. (We only use technology with the best results for our customers.