---
Special limited-time offer exclusively for the Residents of Mountain's Edge Las Vegas – Let's Keep our Community Safe.
Germ Hero is offering Las Vegas Residents of Mountain's Edge Community free car disinfection up to three cars per household, when booking an appointment for Germ Hero's Residential Home Disinfection and Sanitizing Services Services. Germ Hero offers Fast, Affordable, and Safe Disinfection and Sanitizing Services that kill 99.99% of harmful Germs, Viruses, Bacteria, Flu, Pathogens, Mold, and Fungi in your Home or Business.
Germ Hero is the #1 Disinfection and Sanitizing Service for Home & Business.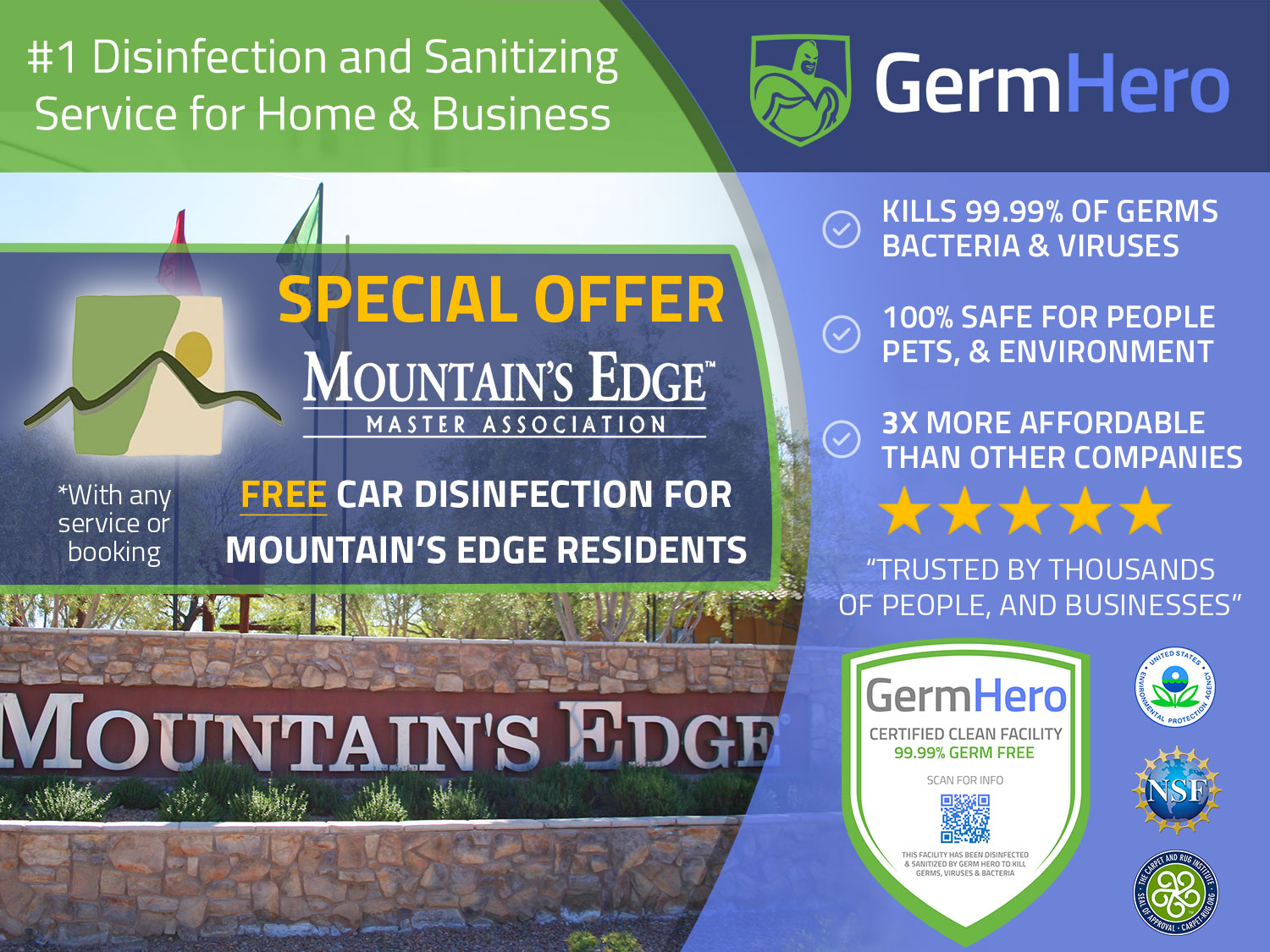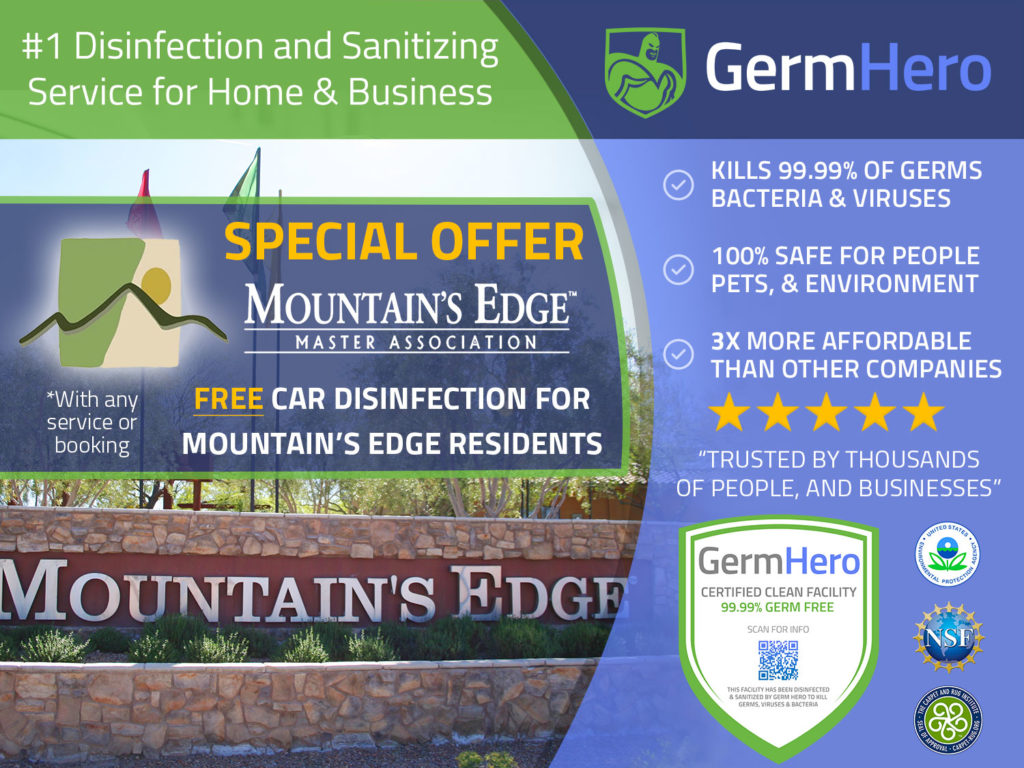 Let Germ Hero Protect Your Loved Ones, and Help Keep Mountain's Edge Community Safe
It's a fact of life that we pick up germs and bring them home. These germs, and other contaminants, cause colds, flu, pneumonia, MRSA, allergies, stomach bugs, ringworm and other illnesses. Even if you clean your home regularly using traditional cleaning methods and disinfection products, you can be missing a large percentage of these germs that your family and loved ones could be coming in contact with.
That's where Germ Hero disinfection services come in. We provide EPA registered and approved hospital-grade disinfection services that eliminate common bacteria, viruses, and germs from your home.
✅ We Kill 99.99% of Germs, Bacteria, Viruses, Flu, Pathogens, Mold, and Fungi.
✅ Germ Hero is on average 3x more affordable than all our competitors.
✅ We offer our commercial Customers Germ Hero Certified Shield Plaques to place around business to help build trust and confidence in the public, customers, and patrons.
✅ 100% Safe for Humans, Pets, and the Environment.
✅ Non-Toxic, Non-Harmful, Non-Abrasive, Non-Corrosive, Non-Flammable.
✅ No Ventilation, Wiping, Washing or Rinsing Required, even on Food Contact Surfaces.
Residential and Home Disinfection & Sanitizing will keep your home and your family safe. We Kill 99.9% Germs, Pathogens, Flu, Viruses, and Bacteria. Germ Hero disinfection service plans are quick, easy and affordable. Our staff are certified trained experts, and super friendly!
Why choose Germ Hero?
Your home is probably one of the biggest investments you'll ever make. It's also the place you, and those you love, spend most of your time. You should consider keeping your living space as clean and healthy as you can with Germ Hero proven disinfection services.
✅ We specialize and focus only on Disinfection and Sanitizing.
✅ We use the most cutting-edge technology such as Electrostatic Spraying, and Atomized Spraying applications.
✅ We use powerful and super effective yet safe Broad-Spectrum disinfecting agents that are 100% EPA-Registered, and Certified.
✅ We are industry respected leaders in the disinfection and sanitizing industry.
✅ Faster turnaround time / process, highly trained experts, friendly outgoing staff.
✅ Incredible personalized support, and custom solutions.
✅ Flexible, and secure online estimates. booking, invoicing and payments.
✅ Longer hours, early mornings, late evenings (we work around and with businesses schedules).
✅ Backed by Germ Hero's internal analysis department and vigorous testing of every product, solution, and technology on the market. (We only use technology with the best results for our customers.